Ballroom: Fire guts popular Enugu nightclub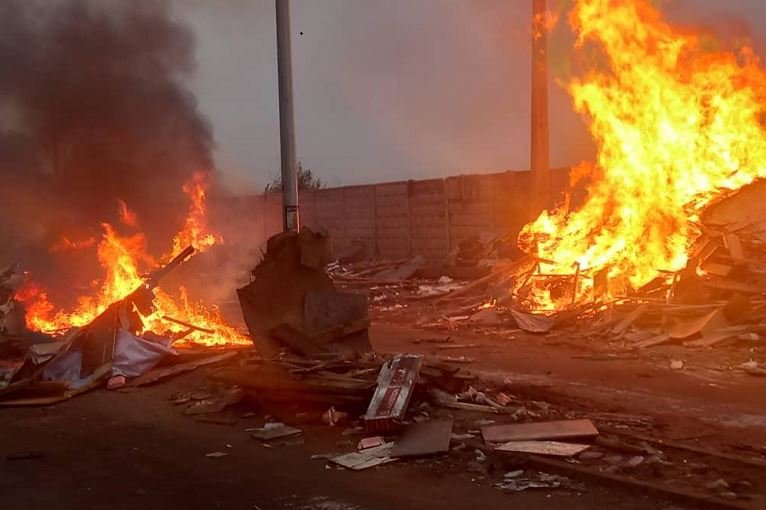 On Saturday, fire engulfed the popular Enugu nightclub, Ballroom, at Otigba Junction in Enugu, causing panic.
The fire allegedly started from the side of the kitchen around 5.10pm, when preparations for the night's activities were underway.
The fire was said to have engulfed the rest of the nightclub, forcing revelers to flee, while other guests who had parked their vehicles on the premises abandoned them.
According to eyewitnesses, about three fire engines mounted by men from the state fire service were on the ground fighting the fire, which spread quickly from within.
There were no human casualties, but the inferno destroyed property worth millions of naira.
One of the customers told our correspondent, that the cause of the fire was still unknown, adding that from the direction of the smoke, it must have come from the kitchen.
"I heard that one of the workers was going towards the kitchen side and noticed heavy smoke coming out of the kitchen side where preparations for the night business were going on.
"The worker, who first noticed it, raised the alarm and immediately the fire alarm was activated and all customers ran out for safety. While the workers were in the process of extinguishing out the fire, more flames came from inside, forcing the manager to call the nearby fire service. And they responded promptly", the customer said.
The state chief fire officer, Engr. Okwudili Ohaa, confirmed the incident, adding that he and his men arrived promptly to avert further damage.
While disclosing that the cause of fire was unknown because fire fighters were still working, Ohaa said the number damages could not be ascertained yet until after the interventions.