Dogara mocks Buhari, Tinubu as Keyamo kicks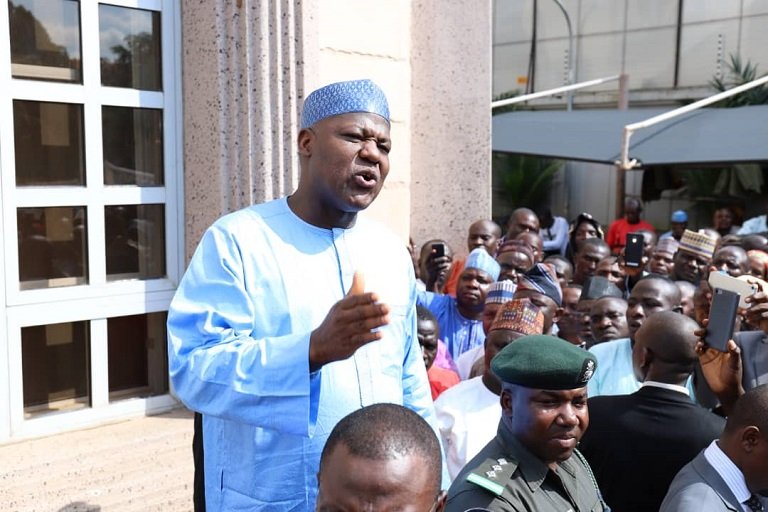 Former Speaker of the House of Representatives, Yakubu Dogara has labelled President Muhammadu Buhari a joker following his message urging Nigerians to vote Bola Tinubu, the APC presidential candidate.
Dogara in a series of tweets mocked the APC and accused Tinubu of having fake certificates, fake parentage and racketeering.
He noted that Nigeria does not deserve Tinubu. Responding to Buhari, he said, "I know that President Muhammadu Buhari loves to crack jokes but I didn't know he will escalate it to the level of satire," he said.
Adding that, "Asiwaju will give his best to Nigeria, really? Fake certificates, fake parentage, golden triangle escapades, racketeering. No Buhari, Nigeria does not deserve his best but we get the satire," he said.
In response to Dogara, Festus Keyamo, the official spokesperson to the APC candidate said, "My brother and law school mate, Yakubu Dogara, this tweet is beneath you. You are actually pained by the support of Buhari for Tinubu, two leaders who have stayed true to their beliefs and causes, unlike the political prostitute, wanderer and back-stabber that you've always been."
Dogara did not take the snipe lying low, he replied Keyamo in another tweet. He said, "In spite of what we now know and what you have said before about your candidate we haven't rushed to the courts, yet you feel so entitled to call us names! My good friend, the law I studied was to save me from the morass of propaganda by gaslighters -in-chief and their ilks.
Dogara then added that, "My brother, I have a name for you but because it's not a good one, I won't say it as a cost of friendship. Yes, we were mates at Law School but I am waiting for you to win a councilorship election first so we can be mates in politics. Learn to punch below your weight category.
Keyamo replied him by saying, "My brother, it is sad you think everyone must be rated by elections won and lost. You've just insulted millions of Nigerians in their various fields of endeavour. Let me remind you that I've reached the height of our profession & you must learn to respect your senior at the bar!
Chronicle NG reports that Dogara withdrew his support for Tinubu after he fielded a Muslim-Muslim ticket by picking Senator Kashim Shettima, a Muslim as his running mate.