Tunisia arrests migrants, seizes boats in people-smuggling crackdown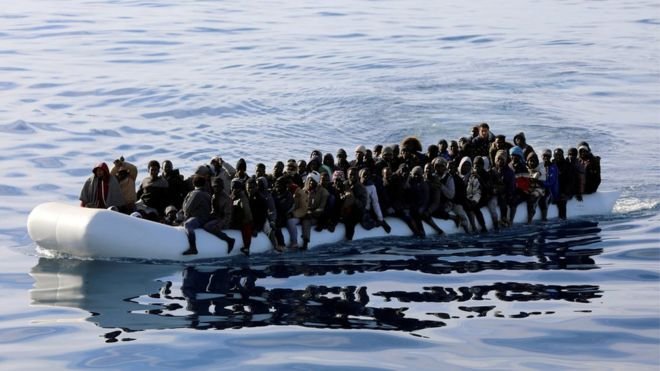 Tunisian police, supported by planes and anti-terrorism units, arrested hundreds of migrants and seized boats on Saturday in a major crackdown on people smuggling in the coastal region of Sfax, a key departure point for migrants heading to Europe.
The government claimed that President Kais Saied had ordered the operation, which came as the Italian island of Lampedusa dealt with a record-high number of boat rovers arriving from North Africa.
Chronicle NG reports that the smuggling of migrants is the facilitation of crossing borders illegally or residing illegally in another country with the aim of making a financial or other material profit.
Tunisian National Guard units raided homes where hundreds of rovers were staying, intercepted trucks carrying migrants towards the beaches, and seized vessels used by the smugglers, officials and witnesses said.
Several suspected people smugglers were detained in the operation involving planes, police dogs, military trucks, and hundreds of police officers in the towns of Jebiniana, Kerkennah, Msatria, and Sfax, the capital of the governorate.
"The air operation is intended to target smugglers who trade in the pain of frustrated people," National Guard Colonel Houssem Jbebli told reporters.
Saied ordered the crackdown to confront the "unacceptable influx of migrants", the Interior Ministry said in a statement.
Tunisia is under strong pressure from Italy and the European Union, which pledged 1 billion euros of EU money to help Tunisia's battered economy in exchange for stemming the flow of migrants.
In the last few days, about 7,000 people arriving from North Africa on boats landed on the small Italian island of Lampedusa, prompting appeals for help from the island's mayor.
Overall, some 126,000 boat rovers have arrived in Italy since the start of the year, almost double the 64,529 recorded in the same period of 2022, according to Italian interior ministry data.
Italian Prime Minister Giorgia Meloni called on Friday for the European Union to act jointly "with a naval mission if necessary" to prevent migrants crossing the Mediterranean from North Africa.