Troops kill 21 bandits in Kebbi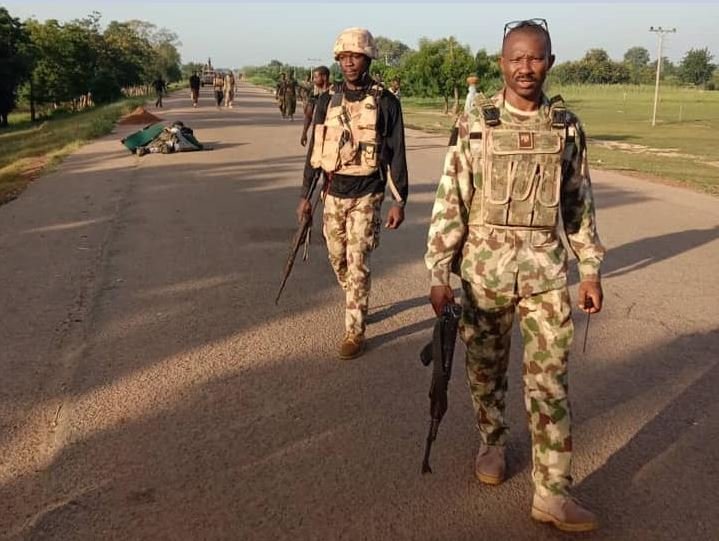 Troops of the Nigerian Army, in collaboration with vigilante operatives, have reportedly neutralised 21 suspected bandits in Danko Wasagu Local Government Area of Kebbi State, an official has said.
Hussani Bena, the Council Chairman, verified this in a phone interview with the newsmen on Thursday.
He claimed that Danko Wasagu shares a border with Niger State's Mariga Local Government Area, via which bandits gain entrance to Kebbi.
According to him, the troops carried out the operation from Monday to Wednesday, and the bandits entered Tudun Bichi under Wasagu through Mariga, but credible intelligence kept security services, vigilante groups, and villagers on alert, resulting in a successful ambush.
He said that villagers, along with vigilantes, murdered 17 suspected bandits and collected weapons, ammunition, and motorcycles, while two locals were killed.
Bena further stated that the bandits travelled to Tangaran village and abducted nine farmers working on their farms, but all of them were eventually liberated by a joint effort of security agencies, vigilantes, and residents in a village called Lugga in Ayu District.
The chairman stated that keeping a close eye on the bandits' movements culminated in another encounter at Bakin Gulbi village, where the united team killed four bandits, recovered weapons, and rescued three kidnapped people, assuring that the outlaws' movements were being followed for further action.
He, however, said that the bandits had killed Marafan Mai Inuwa under Kanya District and abducted some people, but were later rescued by the army after killing some of the bandits.
He stated that, in line with the directives of the governor, "We have visited Kanya District, where all the displaced persons from the surrounding villages converged and commiserated with the people and presented a message (token) from His Excellency, Kauran Gwandu."
While applauding the valiant efforts of the troops, vigilantes, and residents, Bena urged citizens to provide more support and collaboration in supplying solid intelligence to effectively drive out criminals from their neighbourhoods.
The chairman called for more military soldiers to be deployed at Malekachi village, which remained a transit route for bandits, as well as Dankade village.
He stated that the Commissioner for Humanitarian Affairs had been briefed on how the ministry should provide palliatives to impacted victims in order to mitigate the impacts of the heinous incident.