#SexForGrades: UNICAL VC raises concern over minister's threat to witness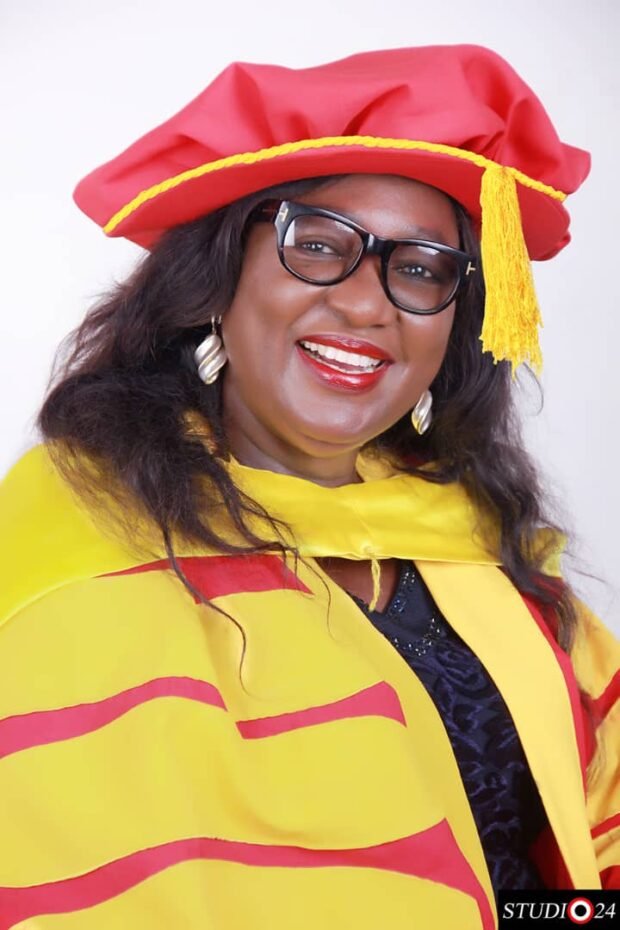 Professor Florence Bisong, the Vice Chancellor (VC) of the University of Calabar, UNICAL, has expressed concern about threats made by the Minister of Women Affairs, Uju Ohaneye, to female students at the university who were appearing before a panel probing charges of sexual harassment against the Dean of the university's Faculty of Law, Professor Cyril Ndifon.
The UNICAL Vice-Chancellor (VC) described as alarming the minister's leaked audio message that went public in which she threatened one of the female students with jail and asked her to stay out of the case.
In a leaked phone call with one of the girls claiming to have been raped by Ndifon, the minister warned the girl that if she lied against Ndifon, she would go to jail.
The full text of what the minister said as recorded in the audio is:
"If your VC makes you to go and lie against somebody, you will go to jail, trust me. I want you to be very careful because your future is at stake. You can't join anybody and maltreat a fellow human being, and equally, nobody wants you to be maltreated.
"The day I spoke with you, I recorded what you said, and you told me the whole truth. I have contacted your VC; I don't know what her plans are; I don't want to quote anybody; I don't equally want to condemn or judge anybody.
"But I want you to be very careful because this thing is going to prove fire. If I were you, as you have already said to me, nobody raped you, nobody sexually harassed you; if I were you, keep off from this case.
"But if she makes you go there, she is recording whatever you people are saying in that panel, and if she records you and I bring my own and get you contradicted and this man has gone to court, my ministry will join them and make you go to jail so that you will be an example to others.
"So I want you to be very, very careful. You are telling me that if your VC permits you before you can come and see me, there is nothing she can do to you; she is not the one paying your school fees. So face your future by standing on the truth at all times.
"Save my number; when you have time to visit me, I will find a way to empower you people so that your life will be easier for you. I am a minister; I am above her by position; you know that.
"So don't go and do anything that will put you into very big trouble that will scandalize you in the whole world because this matter has gone far and beyond.
"Now, I won't play what you people said to me except when you people try to deny it; that is when I will play it. I will conceal it because it's something you told me in confidence. So, I am warning you to keep off lying against anybody".
When asked about the leaked tape last night, the minister merely stated, "Please, the investigation is ongoing. Allow them to complete their assignment. Thanks."
However, speaking in her office on Friday in response to the minister's phone call, Prof. Bisong stated that while the school's management was attempting to deal with the issues through procedural laws and administrative resolution, the minister's audio threat of legal action against anyone who lies before the panel crept up, bringing a completely different angle to the matter.
"A new dimension has unfortunately reared its head in a way that has left us nonplussed with the leaked viral audio of intimidation and jail threats from the Minister of Women Affairs, Mrs. Uju Kennedy, on a few girls who were bold enough to come out to testify on an alleged age-long sexual harassment of female law students against Professor Ndifon.
"While I do not consider it expedient to respond to the disturbing audio, I wish to generally state that the students of the Faculty of Law on their own wrote and submitted a petition and protested against the suspended Dean. And as far as I know, those who have testified before the panel on both sexual harassment and other violations were not prompted by anyone.
"The university should rather be commended for being on the right path, which is directed towards academic excellence, and creating an environment that is key to their survival in an "oppressive and dominant patriarchal culture that yields little or no space for women".
Prof. Ndifon, according to her, was being investigated on a plethora of issues, not just sexual harassment, and it is hoped that at the end of the investigation, the outcome will be helpful to the university and society at large.
The VC added that, "to demonstrate the management's interest in ensuring an objective, unbiased investigation, we accepted the request from some agencies and groups to serve as observers. Consequently, on the panel are representatives from the Public Complaints Commission, the Independent Corrupt Practices and Other Related Offences Commission, the Nigeria Bar Association, the Nigeria Police, the Federation of Female Lawyers, and the University of Calabar Alumni.
"We thought we were giving our colleague a fair opportunity to defend himself by instituting an investigative panel, and at the end, if he is found culpable, he will be brought before a disciplinary panel headed by the Deputy Vice Chancellor Academics".
Recall that last month, Chronicle NG reports that students of the Faculty of Law staged a peaceful protest alleging that the Dean of the Faculty, Prof. Cyril Ndifon, was sexually molesting them, with over 15 victims saying they were eager to testify against the suspended Dean in court.
Following the charges made by the female students, the University of Calabar's administration suspended Prof. Ndifon for alleged violations of the institution's existing statutes and policies.
Mr. Gabriel Egbe, the University Registrar, announced the suspension in a letter on August 17.
According to the letter, the suspension followed the dean's response to a question posed to him by university management.
Dissatisfied with his response, the VC, according to the letter, removed Prof. Ndifon from his post as Dean and suspended him while the case was sent to a panel.
The letter read: "Please refer to our letter Ref UC/REG/DISC.45A dated August 14, 2023, on your alleged violation of the provisions of the extant laws and policies of the university and your response to the said letter, which was dated August 16, 2023. The Vice Chancellor (VC) has gone through your written representations and is not satisfied with your explanations.
"She has, therefore, directed that you be relieved of your position as Dean, Faculty of Law, and placed on suspension while the matter is referred to a panel that will be set up to investigate these allegations."
"The resignation of the Dean of the Faculty of Law and suspension from official responsibilities will take effect on August 17, 2023. Before leaving office, you must turn over all university property in your possession, as well as any official obligations you now have, to the Sub-Dean of the Faculty.
"You are not to enter university property unless you are responding to an invitation from the panel investigating these allegations," management stated.
Profes Ndifon was initially suspended in 2015 but was later reinstated when police cleared him after an investigation.