Strong Morocco earthquake kills over 600, ruins historic buildings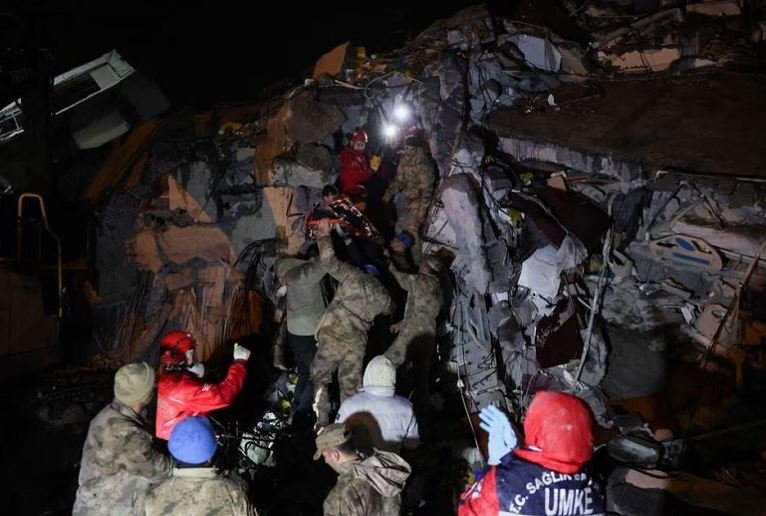 A rare and powerful earthquake hit Morocco late Friday night, killing over 600 people and destroying buildings from the Atlas Mountains to the old city of Marrakech. The death toll was anticipated to grow as rescuers dug through the rubble and sought to reach distant places on Saturday.
People were gathered on the streets of Marrakech late at night, scared to return inside structures that might still be unstable, according to state television.
A man stated that he was visiting a nearby apartment when plates and wall hangings began to pour down, knocking everyone off their feet and chairs. A woman recalled fleeing her home after experiencing an "intense vibration. The tremor jolted a father in bed who was cradling a child awake.
The fluorescent yellow vests of emergency workers illuminated the evening landscape as they searched for survivors among the ruins of buildings. Other images published by the local media showed a gaping hole in the side of a house and a car almost completely buried under the rubble of a demolished structure.
The iconic Koutoubia Mosque in Marrakech, erected in the 12th century, was damaged, but the amount of the damage was not immediately evident. The 69-meter (226-foot) minaret is referred to as the "roof of Marrakech. Moroccans also shared videos of damage to the famed red walls that surround the ancient city, which is a UNESCO World Heritage Site.
At least 632 people were killed, largely in Marrakech and five regions near the epicentre, while another 329 were injured, according to Morocco's Interior Ministry on Saturday morning.
The mayor of a town near the earthquake's epicentre said some homes in adjacent towns had partially or completely fallen, and electricity and roads had been cut off in several locations.
Abderrahim Ait Daoud, the mayor of Talat NYaaqoub, said that authorities are attempting to clear roads in Al Haouz Province to allow ambulances and aid to reach impacted residents, but the huge distances between mountain settlements mean it will take time to determine the extent of the damage.
Local media stated that highways leading to the mountain region around the epicentre were congested with vehicles and blocked by collapsed boulders, hindering rescue efforts. The Moroccan military and emergency services organized help efforts for the areas hit by devastation. Trucks carrying blankets, camp cots, and lighting supplies were heading to the region, reports said.
Al Haouz is well-known for its picturesque High Atlas vistas and Amazigh settlements built into mountain sides.
Later Saturday morning in Marrakech, ambulances and motorcycles whirred through the outside of the old city, where activity had mostly resumed. Tourists and passersby navigated obstacles and took photos of shattered pieces of the clay-ochre wall, which spilled chunks and dust into the pavement and roadway.
On Saturday, messages of solidarity began to pour in from all across the world.
"This is terrible news from Morocco," German Chancellor Olaf Scholz tweeted early Saturday. Our thoughts are with the victims of the catastrophic earthquake during these trying times. Germany's Federal Agency for Technical Relief says it is preparing to assist in the earthquake disaster area if Morocco requests it.
More than a quarter of a million Moroccan immigrants and descendants of immigrants live in Germany.
Indian Prime Minister Narendra Modi, who is hosting the Group of 20 summit of the world's leading economies, said in a statement that "India is ready to offer all possible assistance to Morocco in this difficult time."
The European Union stated in a statement Saturday that its emergency response centre is closely watching the situation and is ready to assist, while a UN spokeswoman said that "the United Nations is ready to assist the government of Morocco in its efforts to assist the impacted population."
The quake had a preliminary magnitude of 6.8 when it struck at 11:11 p.m. (2211 GMT), with shaking that lasted several seconds, according to the US Geological Survey. A magnitude-4.9 aftershock struck 19 minutes later, US agency disclosed.
The tremor's epicentre was in Ighil, in Al Haouz Province, around 70 kilometres (43.5 miles) south of Marrakech.
The US Geological Survey estimated the epicentre to be 18 kilometres (11 miles) below the Earth's surface, whereas Morocco's seismic service estimated it to be 11 kilometres (7 miles). These shallow earthquakes are more damaging.
Preliminary accounts disclosed that the damage and deaths were severe in the Marrakech-Safi region, which is home to more than 4.5 million people, according to state figures.
Earthquakes are uncommon in North Africa. The earthquake was the greatest ever recorded in the mountain region, according to Lahcen Mhanni, Head of the Seismic Monitoring and Warning Department at the National Institute of Geophysics.
A magnitude 5.8 earthquake struck near the Moroccan city of Agadir in 1960, killing hundreds.
The Agadir earthquake triggered revisions in Moroccan construction regulations, although many buildings, particularly rural dwellings, are not designed to survive severe tremors.
A 6.4-magnitude earthquake in the Mediterranean coastal city of Al Hoceima in 2004 killed around 600 people.
The Portuguese Institute disclosed that for the Sea and Atmosphere and Algeria's Civil Defence Service, which coordinates emergency response, the Friday quake was felt as far away as Portugal and Algeria.