Greece rescues 25 migrants from deadly Evros wildfire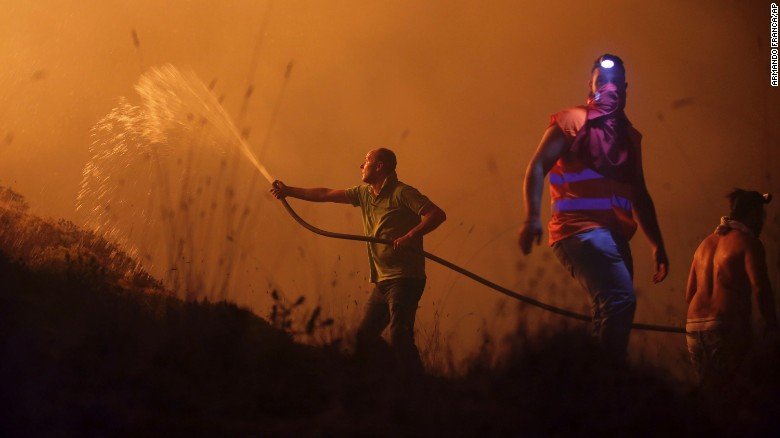 Authorities in Greece announced on Friday that they rescued a group of 25 migrants who were caught in a wildfire that had been blazing in the northeastern province of Evros for over two weeks.
The Evros wildfire, Europe's deadliest this summer, has now been burning for a 14th day, killing at least 20 people, destroying homes and livelihoods, and scorching lush woods.
All but one of those killed in the Evros fire are thought to be migrants who crossed from Turkey while escaping police in the forest. Every year, thousands of migrants and refugees use Evros to enter the European Union.
Aircraft and hundreds of firefighters on Friday battled the Dadia Forest fire in high winds.
A video showed migrants sitting on a road adjacent to a field, with trees in the backdrop enveloped in heavy grey smoke, before authorities hauled them away on an open-backed vehicle.
"While operating between the villages of Giannouli and Dadia, the fire brigade and police discovered 25 people and transported them to a safe location," Greek fire brigade spokesperson Ioannis Artopoios told reporters.
A police spokesman disclosed that the migrants were all male and claimed to be from Syria, Iraq, and Lebanon as they were apprehended.
The Copernicus Emergency Management Service disclosed that the Evros fire burned at least 812.6 square kilometres (313.8 square miles), which is larger than New York City's 778.2 square kilometres (300.5 square miles).
The World Wildlife Fund disclosed that at least 30% of Greece's protected Dadia-Lefkimi-Soufli Forest has been destroyed.
Summer wildfires are common in the Mediterranean country, but the government claims that extremely dry, windy, and hot circumstances linked to climate change have exacerbated them this year, causing thousands of people to evacuate.
Following complaints from climate activists, Greece's Prime Minister Kyriakos Mitsotakis announced on Thursday that the country would deploy drones, install forest temperature monitors, and hire more personnel to boost firefighting.
Switzerland announced on Friday that it will send three army helicopters and people to assist with firefighting in Evros.