Canada parliament speaker resigns after tribute to Nazi veteran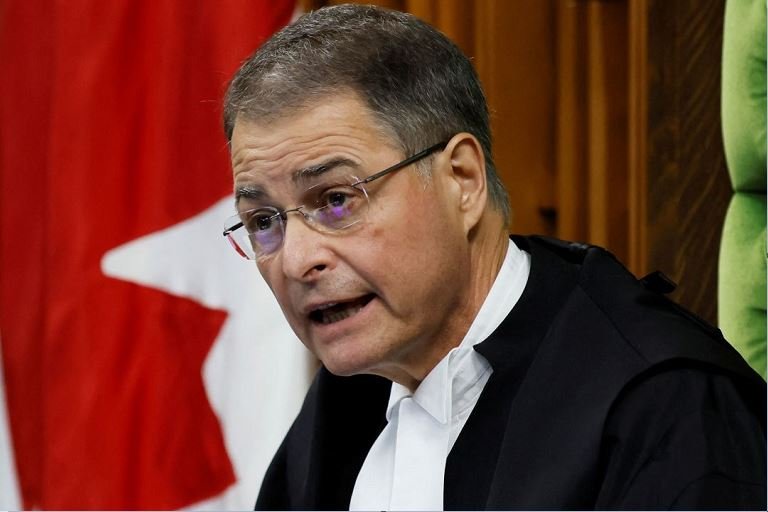 The speaker of Canada's parliament resigned on Tuesday, days after publicly celebrating a Ukrainian veteran who fought for the Nazis during World War II.
During a visit to parliament by Ukraine's President Volodymyr Zelensky last week, Anthony Rota hailed an elderly Ukrainian immigrant from his district as a hero, prompting a standing ovation.
But Rota has faced growing pressure to resign after it was revealed that the veteran had served in a Nazi-linked military unit.
"It is with a heavy heart that I rise to inform members of my resignation as Speaker of the House of Commons," Anthony Rota told lawmakers from the parliamentary floor.
He expressed his "profound regret for my error" and the pain he caused to Jewish communities in Canada and around the world.
Russia has accused the government in Kyiv of espousing Nazi ideals, despite Zelensky being Jewish and losing family members in the Holocaust, and the controversy was likely to add fodder to that narrative.
On Friday, Ruta paid homage to Yaroslav Hunka, a 98-year-old Ukrainian immigrant who was visiting parliament and who is from Rota's electoral district.
He hailed Hunka as "a Ukrainian-Canadian war veteran from the Second World War who fought for Ukrainian independence against the Russians" and "a Ukrainian hero and a Canadian hero."
But Hunka actually served in the 14th Waffen Grenadier Division of the SS, "a Nazi military unit whose crimes against humanity during the Holocaust are well-documented," according to the Friends of Simon Wiesenthal Center.
The Jewish advocacy group called the incident "shocking" and "incredibly disturbing."
"This incident has compromised all 338 Members of Parliament," the organization said, adding it had "handed a propaganda victory to Russia, distracting from what was a momentously significant display of unity between Canada and Ukraine."
On Tuesday, Canadian Foreign Minister Melanie Joly joined a chorus of people calling on the speaker to resign.
"What happened on Friday is completely unacceptable," she told reporters at parliament.
"It is an embarrassment to the House and to Canadians, and I think the speaker should listen to members of the House and step down."
– 'Deepest apologies' –
Several political parties in Canada had also urged Rota, a Liberal lawmaker, to step down.
Rota, who was first elected in 2004 and became speaker in 2019, apologized on Sunday, saying that he had "subsequently become aware of more information" which caused him to regret his remarks about Hunka.
"This initiative was entirely my own… I particularly want to extend my deepest apologies to Jewish communities in Canada and around the world," he said.
On Monday Prime Minister Justin Trudeau called Rota's remarks shameful.
The main opposition Conservatives slammed the Trudeau administration for failing to properly vet Hunka, despite claims it had no advance notice he'd been invited to the event.
Zelensky's visit to Canada was the third leg in a tour aimed at bolstering international support, after addressing the United Nations and visiting US President Joe Biden in Washington.
During the visit, Trudeau pledged additional aid to Zelensky's war-torn country.
Canada is home to the world's second-largest Ukrainian diaspora and Zelensky, in his speech to parliament, expressed thanks for the backing given to Kyiv since Russian troops poured over the Ukrainian borders in February 2022.
Russia has accused Ukrainian leaders of being "neo-Nazis" and has sought to justify the war with the need to "denazify" its neighbor, and the controversy was likely to further fuel such rhetoric.
Commenting on the issue of the Ukrainian veteran, Kremlin spokesman Dmitry Peskov said "such sloppiness of memory is outrageous," Russian media reported.
AFP