World Breastfeeding Week: FG considers compulsory six months maternity leave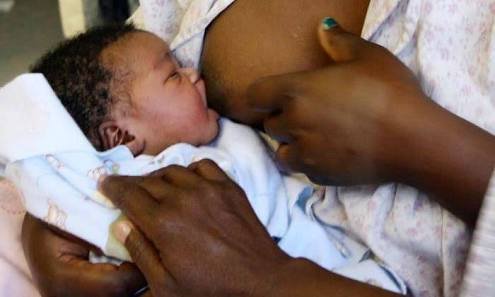 The National Food and Nutrition Committee and the Federal Ministry of Health carried their public Place campaign on Exclusive Breastfeeding to public officials and residents of the Federal Capital Territory, Abuja, on Friday in recognition of World Breastfeeding Week.
This is despite the fact that the federal government recently announced that it will shortly approve six months of mandatory maternity leave for all working mothers across the country.
The Enabling Breastfeeding: Making a Difference for Working Parents awareness campaign was organized in collaboration with USAID, ScaleUp Nutrition, Helen Keller International, UNECEF, Gain, Save the Children, Action Against Hunger, Breakthrough Action, the World Food Programme, and Nutrition International, among others.
Speaking about the awareness campaign, Chief Uruakpa John, Director, Head Micronutrient Deficiency Control, Federal Ministry of Health, said the goal was to educate the public, particularly working mothers, on the importance of breastfeeding because "when you breastfeed a child exclusively, the immunity of that child is built against disease and infection."
"Breastfeeding is important in the lives of every human being; we are all mammals, and we are all designed to nurse our offspring when they are born," he added. As a result, when the mother is not there when their infants are born, they suffer severely in terms of growth and healthy development since immunity and protection from the mother's breast are not present.
"So, breast milk is what the entire globe is honouring in order to urge our moms, both working-class and full-time mothers, to nurse their infants. It is not a matter of nursing; in order to get the most out of your breast milk, you must exclusively nurse your child. When a kid is exclusively breastfed, his or her immunity to sickness and infection is strengthened.
"If you give a child only breast milk for six months, you have nutritionally prepared the child, and the child will be able to grow appropriately by the time you introduce whole foods and complementary foods." He'll get all of the antibiotics he needs to survive."
"The purpose of our campaign is to continue to encourage our moms and organisations to offer a supportive atmosphere for our mothers to breastfeed. That is why, in their wisdom, the government has granted 16 weeks of maternity leave while we are pressing for six months. We are seeing indications that it will be authorized soon. Even yet, some jurisdictions have authorized 6 months and even 2 weeks of fatherhood, and they are striving for more; if they can legalize 4 weeks, they will embrace it.
"We are promoting this recently since our ladies are attempting to bring life; if they did not breastfeed, we would not be here as physicians, employees, journalists, directors, and permanent secretaries. We're talking about leaders because some of them were not adequately nursed, and the repercussions are visible."
Princess Usung, Lead Midwife for Wellbeing Africa, also spoke, saying that this year's celebration is the best yet since moms are being denied nursing for 6 months, causing a schism between mothers and their newborns.
'It is recommended that policymakers, employers, and managers set aside a breastfeeding cubicle for nursing moms so that they may take some time off during work hours to nurse their infants. Breastfeeding is quite important since it is easily absorbed and delivers nutritional advantages to youngsters."
She also called for working-class women to be given at least six months of paid leave to nurse their children.
The 16 weeks that have been put in place for her may be extended for 6 months, and he believes that dads should be granted paternity leave to help their spouses since it goes hand in hand and collaborative support can always nurture optimum nursing for our children.
Angela Samba, Senior Maternal, Newborn Health, and Nutrition Adviser to USAID, stated that while behavioural change is difficult, USAID has been working on grassroots awareness generation for breastfeeding.
"We understand that habit change does not happen quickly, but we are making efforts with many partners. The 2018 NDHS survey reported that the stunting rate was 29%, although last year we had a mixed survey that suggested that we had improved from the previous year.
"So, it shows that our efforts are paying off; we may not be there yet, but we will continue to raise awareness about it. Our efforts are mostly focused on raising awareness and encouraging individuals to adopt some of these breastfeeding practises and other health habits in their communities. Other USAID partners are also working on health facilities, system improvements, and policy advocacy to ensure that all of these efforts are directed towards the intended outcome."
Every year, from the 1st to the 7th of August, World Breastfeeding Week is observed. The topic is aimed at establishing an enabling environment for working parents to breastfeed their children.