Portugal battles wildfires amid third heatwave of the year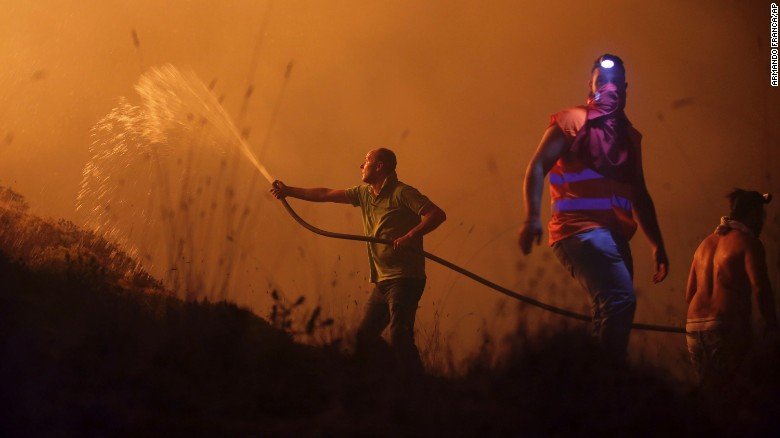 Firefighters in Portugal are battling flames that have engulfed thousands of hectares due to high temperatures.
Overnight on Monday, over 800 workers responded to a fire in the southern town of Odemira, forcing more than 1,400 residents to flee.
At least nine firefighters were hurt while battling the fires.
Temperatures in excess of 40 degrees Celsius (104 degrees Fahrenheit) are anticipated to scorch parts of the Iberian Peninsula this week.
Three big fires that charred hundreds of hectares in Spain over the weekend have been extinguished, but weather warnings remain in effect for most of the nation.
Monday's temperature in Santarém, Portugal, was 46.4 degrees Celsius (116 degrees Fahrenheit), the highest of the year thus far.
The fire in Odemira started on Saturday and was forced south towards the rugged interior of Portugal's biggest tourism zone, the Algarve.
It has so far devastated 6,700 hectares (16,600 acres) of land and forced the evacuation of 19 towns, four tourist hotels, and a camping site.
The situation has been described as "critical, difficult, and complex" by the town's mayor, Helder Guerreiro.
Other big fires in the country's middle forced the closure of various portions of highway, notably the A1 between Lisbon and Porto.
Sixteen waterbombing planes have been dispatched to help with firefighting efforts in both districts.
Authorities in Portugal have placed more than 120 communities in high danger of wildfire.
On Saturday and Sunday, fires in the south-western coastal cities of Cadiz and Huelva, as well as in the northern Catalonia area, burned more than 1,000 hectares (2,470 acres).
The heatwave this week will be the third to slam the Iberian Peninsula this summer.
According to Ruben del Campo of Spain's State Meteorological Agency, it is driven by a massive mass of hot, dry air from North Africa and will be "generally more intense, more widespread, and a little longer-lasting" than the two that hit in July.
Climate warming increases the likelihood of hot, dry weather that fuels wildfires.
The world has already warmed by around 1.1 degrees Celsius since the beginning of the industrial age, and temperatures will continue to rise unless governments throughout the world drastically reduce emissions.