Onana back in Cameroun squad after fallout with Rigobert Song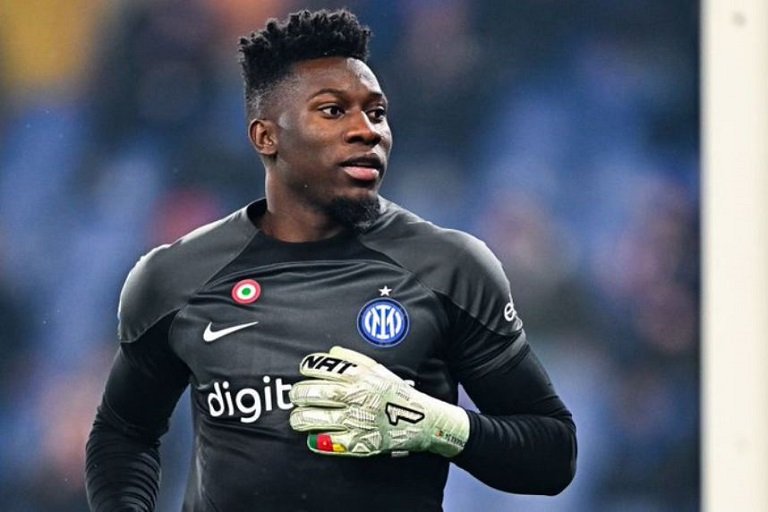 Manchester United goalkeeper, Andre Onana has returned to the Cameroon national team after being called up ahead of their forthcoming Africa Cup of Nations qualifier.
Last year, Onana was withdrawn from the World Cup team after a heated altercation with manager Rigobert Song about his style of play, with the custodian reportedly advised to take a more risk-free approach on the ball.
He was then sent home and abruptly retired from international football following the tournament in Qatar, but he made a spectacular U-turn this month.
The 27-year-old was chosen from a 24-man group for the September 12 qualifier against Burundi, with Cameroon needing only a draw to proceed to the tournament. An early exit for Cameroon would see Onana report back sooner than expected.
In his absence, Ten Hag will be able to call on the incoming Altay Bayindir, who is scheduled to join Crystal Palace after Dean Henderson leaves. Tom Heaton, who stood out throughout pre-season, will remain with the club as a backup.
Despite his earlier conflict with boss Song, Onana has received 34 caps for Cameroon and is expected to be established as their No. 1 once again.
Helena Condis Edo said shortly after the row that Onana saw the relationship as "irreversible," despite attempts to mediate by Samuel Eto'o, the famed former striker and Cameroon Football Federation (Fecafoot) president.
However, it has emerged that a former Fecafoot executive has blamed Eto'o for Onana's exile and slammed the senior figure as "mean."
Henry Njalla Quan accused Eto'o of wanting 'to get rid' of "Onana at all costs.
"Andre Onana's call-up to the national team is conditional on the president of Fecafoot," Njalla said at a press conference.
"I formally asked him about the future of our goalkeeper in the national team, and he replied that the boy's career is over and that the letter he sent to his club, Inter FC, was to get rid of the boy, so how can anyone be so mean?
"He explained the real reason for the expulsion of Andre Onana from the World Cup held in Qatar, as the president of the Cameroonian football federation, Samuel Eto'o, wanted to get rid of the Inter goalkeeper at all costs.
"The stars of the national team are being suffocated by someone who was a star himself when he was a footballer and wants to remain a star as a manager. In every meeting, he is there, and in every training session, he is there.
"Even the coach feels suffocated by Eto'o's omnipresence."
Onana has made three appearances to date for United after arriving this summer.