NLC slams Tinubu's speech, says Government out of touch with reality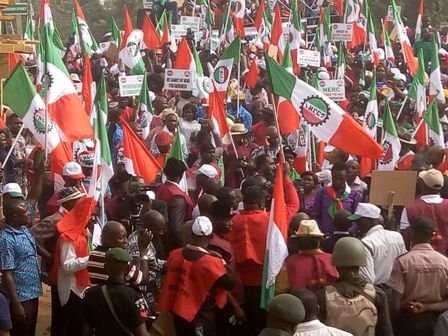 The Nigeria Labour Congress (NLC), on monday night, criticized the palliative measures announced by President Bola Tinubu to lessen the effect of petrol subsidy removal on Nigerians, saying the programs to be rolled out by the federal government are totally out of touch with the economic realities and hardships currently being faced by poor citizens.
In a statement released on Monday, hours after the President's special broadcast to Nigerians on his plans to reduce the suffering of the citizens, NLC President Joe Ajaero said "the promises and assurances made by President Tinubu are not the silver bullet that Nigerians expected".
"The speech indeed appears to be out of touch with reality and anomalous with the hardship and suffering that most Nigerians are going through now," the NLC president said.
President Bola Tinubu removed the subsidy on petrol during his inauguration speech on May 29, 2023, with a liter of petrol rising from N184 to over N620 and food prices and general inflation galloping at an unprecedented rate.
Tinubu had, in his address on Monday, promised to review workers' salaries and the minimum wage.
He also announced a N75 billion palliative for the manufacturing sector, saying 75 businesses would benefit within a nine-month period spanning the third quarter of 2023 to the first quarter of next year.
The President also noted the administration's recognition of micro, small, and medium-sized enterprises and the informal sector as drivers of growth.
Tinubu went on to declare a N125 billion fund to energize "this very important sector".
To boost the agricultural sector, Tinubu disclosed that N200 billion would be spent as part of its plans to support the cultivation of 500,000 hectares of farmland, and all-year-round farming practices remain on course.
According to him, provision has been made "to invest N100 billion between now and March 2024 to acquire 3000 units of 20-seater CNG-fueled buses".
However, the NLC said the President was expected to tell Nigerians his plans to resuscitate the public refineries, which have been lying comatose for so many years, but he was completely silent on the issue.
The organized labor unions had threatened a nationwide protest starting August 2, 2023, if the government failed to do the needful.