Mercenaries must swear allegiance to Russia – Putin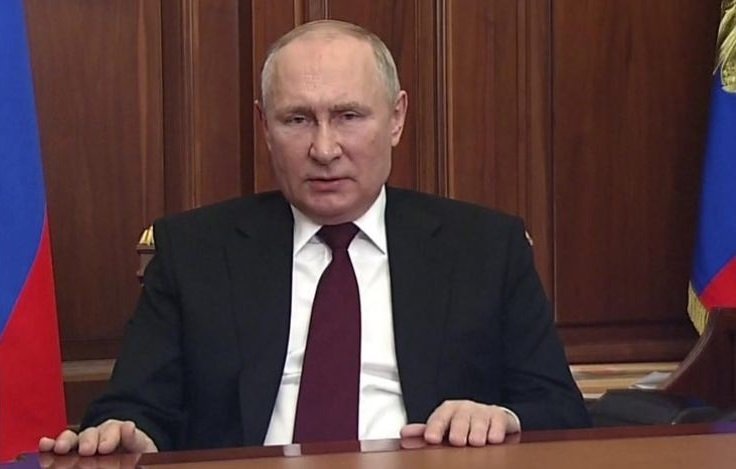 President Vladimir Putin has ordered that all Wagner and other Russian private military contractors swear an oath of loyalty to the Russian state.
The regulation applies to anyone in Ukraine who is involved in military activity, such as supporting the army or serving in territorial defence forces.
He signed the directive on Friday, and it went into force immediately.
It comes only two days after Wagner officials were feared dead in a jet accident.
Separately, on Saturday, a far-right subgroup of Wagner known as Rusich announced the suspension of military activities in Ukraine.
Rusich accused Russia's foreign ministry in a Telegram message of failing to protect a founding member of the organisation, Yan Petrovsky, who was jailed in Finland for visa irregularities and faces extradition to Ukraine.
Analysts believe Mr. Putin's decision is part of his efforts to regain control in the aftermath of Wagner's mutiny in June.
"Putin wants tighter control over Wagner to ensure he doesn't face another crisis," Natia Seskuria of the Royal United Services Institute, a London think tank, told the BBC.
The ruling comes as Wagner mercenaries are without an evident commander following the crash of a plane carrying Yevgeny Prigozhin and senior leaders on Wednesday, killing all ten people on board.
The pledge, described in the directive as a step towards laying the spiritual and moral foundations of Russia's defence, includes a vow to scrupulously execute commanders' instructions.
"It is a hidden message to military intelligence to find and prosecute Wagner fighters," Petro Burkovskyi, the president of Ukraine's Democratic Initiatives Foundation, told the BBC.
He also says that it sends a clear message to the fighters: "Either take the oath and keep your arms, or disarm yourself. You either comply or go to prison."
The Russian military ministry granted mercenary organisations until July 1 to sign army contracts, only weeks before Prigozhin's failed revolt in June.
Prigozhin refused to sign because he did not want Wagner to work under the ministry's supervision. Mr. Putin supported the ministry's contract arrangement, dealing the first public blow to his long-time buddy Prigozhin.
The argument became heated, resulting in Prigozhin's rebellion.
But, in the absence of a clear commander, what effect would the directive have on the Wagner fighters?
Mr. Burkovskyi believes that, as veteran soldiers, they are valuable assets to the Russian army.
"They chose Wagner because he treated them special, without the bureaucracy of the massive Russian army. If they obtain preferential treatment under Putin's instructions, I doubt they care where, to whom, or for whom they fight."
Ms. Seskuria feels that, while the order may have an immediate impact, there are Prigozhin loyalists who would refuse to take the oath.
"This could potentially cause problems for Putin in the long run," he argues.
Meanwhile, Russian air defences stopped drone strikes on the Moscow and Belgorod districts on Saturday morning, according to authorities.
Four people were injured by shelling in the Belgorod district, which borders Ukraine, according to the local governor.
The Ukrainian government practically never officially confesses to carrying out assaults against Russian citizens.
In Ukraine, two people were killed and one was injured when Russia bombarded a Ukrainian hamlet in the north-eastern town of Kupiansk, the regional governor of Kharkiv disclosed.