Buffon retires from football at 45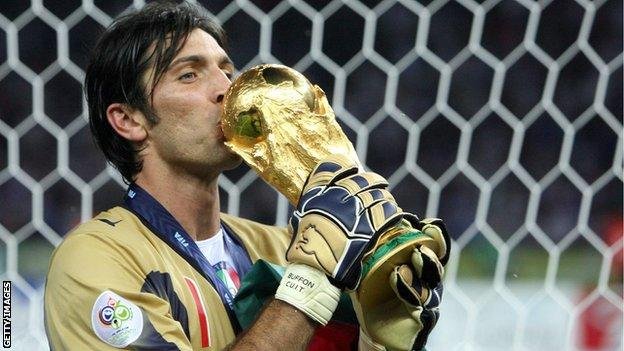 Former Juventus and Italy legend, Gianluigi Buffon, has announced his retirement from professional football at the age of 45.
The World Cup champion had a remarkable 28-year career, spending the last two seasons in Serie B with his boyhood club, Parma.
Before announcing his retirement, Buffon terminated his contract with Parma, which was slated to expire in June 2024.
The Italian posted a video on his Twitter account on Wednesday that read: "That's all, folks! You gave me everything. I gave you everything. We did it together."
Buffon, regarded as one of the best goalkeepers of all time, spent two decades with Juventus before a 12-month stint at Paris Saint-Germain in 2018–19.
He made his professional debut for Parma at the age of 17 in 1995 and won the Coppa Italia, UEFA Cup, and Italian Supercoppa four years later. In 2001, he transferred to Juventus for €52 million ($57 million), a then-world record cost for a goalie.
He won 10 Serie A titles in 19 seasons at Juventus, as well as the Serie B championship in 2006–07, when the club was relegated as a result of the Calciopoli match-fixing scandal.
He also won the Coppa Italia five times and the Supercoppa Italiana six times. Buffon played in three Champions League finals for Juventus but never won the coveted title.
In 2018, he signed as a free agent with PSG, where he won the Ligue 1 title and the Trophee des Champions before returning to Juventus the following season.
With 176 international appearances, Buffon is Italy's most-capped player.
He made his Azzurri debut in 1997 and was picked for nine international tournaments between 1998 and 2016, including the 1998 World Cup.
He helped Italy win the World Cup in 2006 by keeping five clean sheets in seven games.
Buffon finished second in the Ballon d'Or that year, only to Azzurri colleague Fabio Cannavaro. Buffon also captained Italy in their Euro 2012 final loss to Spain.
In 2017, he departed from international service after 20 years of service.
Among those who praised Buffon's legacy was Juventus captain Leonardo Bonucci.
"You've been unbeatable," wrote the former Italy defender. And you will always be. I'm at a loss for words to convey what you've been, what you've taught me, and what you've given me. Thank you so much, my friend."
Buffon is expected to become Italy's national team delegation director after retirement.