Dele Alli reveals he was molested at age six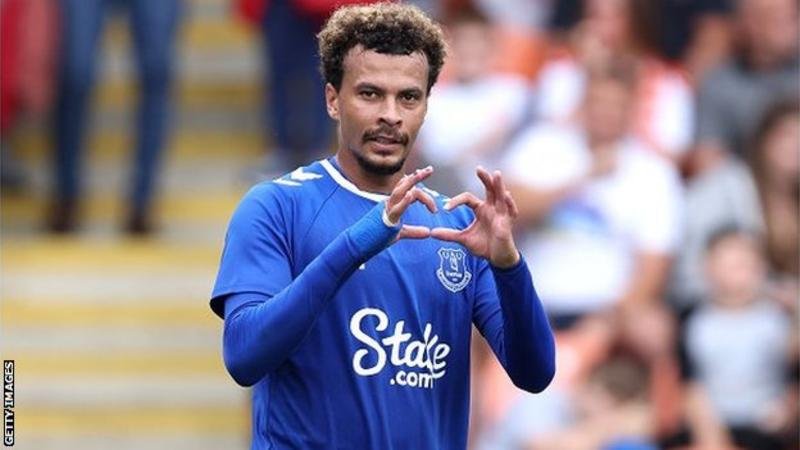 Dele Alli has claimed he was molested as a six-year-old child in a harrowing and brave interview with Gary Neville.
England star Dele, 27, has returned to Everton for pre-season after a difficult spell in Turkey, which led to him checking himself into rehab due to an addiction to sleeping tablets.
The ex-Tottenham star has now bravely opened up about his traumatic childhood with his birth family before he was adopted at the age of 12 and claims his birth mother battled an alcohol addiction.
Speaking to Neville on The Overlap, an emotional Dele said, "It is something I haven't really spoken about. There were a few instances. At six, I was molested."
Neville, who coached Dele during his time with England, was reduced to tears and comforted the midfielder, assuring him, "You don't need to be sorry.
"I feel the fact you are now opening up will make people realize this is something that has been stored inside you, caged, for 15-20 years."
Dele then revealed he was sent to Africa to live with his birth father, having been in trouble as a young child, before returning to the UK within six months.
"I was sent to Africa to learn discipline, then I was sent back. It was horrible; I did not want to be there. I started smoking at seven and selling drugs at eight. An older person told me they wouldn't stop a kid, so I would cycle around with my football and the drugs underneath," he added.
"I got in trouble a lot with the police, but I had no rules as I grew up. My mom drank a lot, and I don't blame her. I understood her situation after going to rehab. It was all she knew.
"When she put me up for adoption, we both knew it was needed to give me a chance of living a successful life. It was only going one way if I stayed there."
Dele was adopted at 12 and spent several years with his family before he broke into the MK Dons first team at 16. He adds: "I was adopted by an amazing family, and I couldn't have asked for better people. If God created people, it was them. They were amazing.
"They have helped me a lot. When I started living with them, it was hard for me to really open up because I felt within myself that it was easy for them to get rid of me. I tried to be the best kid I could be for those few years. I started playing in the first team at 16, and it took off from there."
Dele revealed he no longer has contact with his birth mother or father after claiming they began to make false accusations about his adopted parents.
"My dad went missing for a while, and then when I started playing for England, he came back. I used to speak to my mom to try and help her, and when I was around 18, they went to the newspaper and started accusing my adopted family of taking advantage of me," he added.
"They would make me go and see her and have a relationship with her. That spoke volumes about the kind of people they are. After that, I felt so betrayed and let down and couldn't keep a relationship with them.
"My adopted family did amazing things because they would really piece things together. There are a lot of things that I would question myself about because they went against my values, who I am as a person, or what I wanted to do. And I'd question why I made them decisions, but they could link a lot of things.
"Like, for example, I used to have house parties. And I didn't care who was in the house while I was playing football. So, I'd have house parties, and that was very much how my biological mom's house was without me knowing. It was my comfort zone; it was normal to me. So, just little things like that."
Dele says he has decided to open up about his childhood ordeal and his decision to check himself into rehab in an attempt to help others. He adds: "I realized that going away and talking about it and understanding it more, yeah, I did need help, and it got to the point where I couldn't do it by myself anymore, and I think that's the thing people need to understand that it is ok.
"As long as I help one person come out and change their life and potentially save their life, then that's all I need from this."
Dele has joined Everton's squad for their pre-season tour of Switzerland as he continues his recovery from injury.
He was signed by Frank Lampard from Tottenham in January 2022 but made only 13 appearances for the club, including one start.
Dele struggled in a loan spell at Besiktas last season, and it remains to be seen if he will be given a chance at a fresh start by Sean Dyche. But he has hailed the off-field support of his manager as he eyes a return to the pitch next season.
"We have had some good conversations, not so much about football at this point because obviously I'm still injured, but about where I'm at. And I'd like to say a big thanks to him as well. I think for someone who didn't really know me, for this to be thrown on him and to be so understanding and not even just understanding, we had a good conversation, and, like I said, he was supportive.
"Right now, it's just about getting back on the pitch and showing him what I can do, and the talks were more about what I've done in terms of the rehab and how I'm feeling.
"I'm feeling good in that sense; probably another few weeks [away from returning from injury] and then get back playing and enjoying football, which is what I want to do. So, I'm ready for a big season, and I'm more prepared to deal with any challenge that comes with it, Dele said".