Court jails 19 internet fraudsters in Benin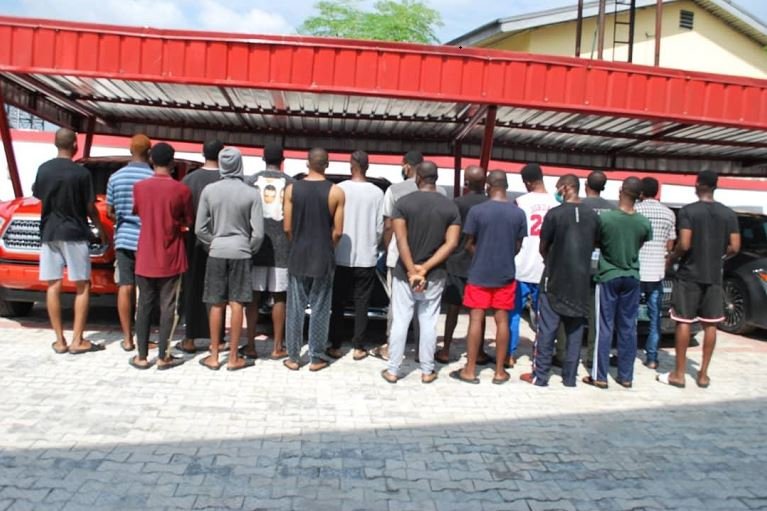 A State High Court sitting in Benin, Edo State, has on Tuesday, June 6, 2023, convicted and sentenced 19 internet fraudsters to prison for fraud.
Presiding over the cases, Justices Efe Ikponmwonba and M. Itsueli of Edo State High Court, convicted the accused who were standing trail separately on one-count charge bordering on retention of proceeds of crime, fraudulent representation and unlawful possession of fraudulent documents by the Benin Zonal Command of the Economic and Financial Crimes Commission.
The convicts are Fidelis Esajini, Nicholas Azeke, Marvelous Alakpa, Adelike Ifeakachukwu Destiny, Osamwingie Osarenwinda, Mathias Friday Gbenga; Collins Etiosa Iyekeoretin, Anyanwu Miracle, Justice Aifo, Emmanuel Efetobor.
Others are Osahenie Louis Uwoghiren, Emmanuel Osifo, Timothy Nowamagbe, Desmond Taiwo, Atunu Brilliant Ewomaoghene, Elvis Onojebe, Promise Uduaghan, Francis Uzoma Okoliko and Omokaro Omonefe.
Against Collins Etiosa Iyekeoretin, the charges read: "that you, Collins Etiosa Iyekeoretin sometime between 23rd January 2018 and 26th May 2023 in Benin City, Edo State within the jurisdiction of this Honourable Court did retain the control of the aggregate sum of N303,304,519:69 in your UBA bank account number: 1021606211 on behalf of Osawonyi Ella, knowing that same represent the proceeds of criminal conduct of the said Osawonyi Ella and others and thereby committed an offence contrary to Section 17(a) of the Economic and Financial Crimes Commission ( Establishment ) Act, 2004 and punishable under section 17(b) of the same Act"
In the case of Fidelis Esajini, the charges reads. "That you, Fidelis Esajini sometime in May, 2023 within the jurisdiction of this Honourable Court did with intent to defraud represent yourself to be one Lisa, a citizen of the United States of America and thereby committed an offence contrary to and punishable under Section 484 of the Criminal Code Law Cap 48, Laws of Bendel State of Nigeria (as applicable in Edo State) 1976".
Upon arraignment, all of the defendants pleaded guilty to their individual crimes, prompting the prosecution counsel, F.A.Jirbo, I.M Elodi, Saliu Ahmed, A.A.Ibrahim, and AS Balariba, to ask the court to convict and sentence them.
However, the plaintiffs' counsel pleaded with the court to temper justice with mercy because the defendants were first time offenders who had turned a new leaf.
Justice Ikponmwonba convicted and sentenced Esajini, Destiny, Osarenwinda, Gbenga, Iyekeoretin, Nowamagbe, Ewomaoghene and Okoliko to three years imprisonment with an option of Two Hundred Thousand Naira as fine.
Azeke, Miracle, Aifo, Efetobor, Uwoghiren, Osifo were sentenced to Three years imprisonment or a fine of One Hundred Thousand Naira each.
Alakpa was sentenced to three years imprisonment or a fine of three hundred thousand naira while Taiwo was sentenced to two years imprisonment or a fine of Two Hundred Thousand Naira.
Promise Uduaghan, Elvis Onojebe, and Omokaro Omonefe were convicted and sentenced to three years in prison or a fine of two hundred thousand Naira by Justice Itsueli.
The court further ordered the seizure and forfeiture of six automobiles, including a Lexus ES350, a Black Mercedes ML350, a Mercedes Benz C-30 model, a Mercedes Benz ML 350, a Lexus NX, and a Toyota Corolla, as well as iPads, laptops, phones, and the amount in the defendants' bank accounts, to the Federal Government of Nigeria via the EFCC.