Wildfire ravages woodlands, villagers evacuated in Spain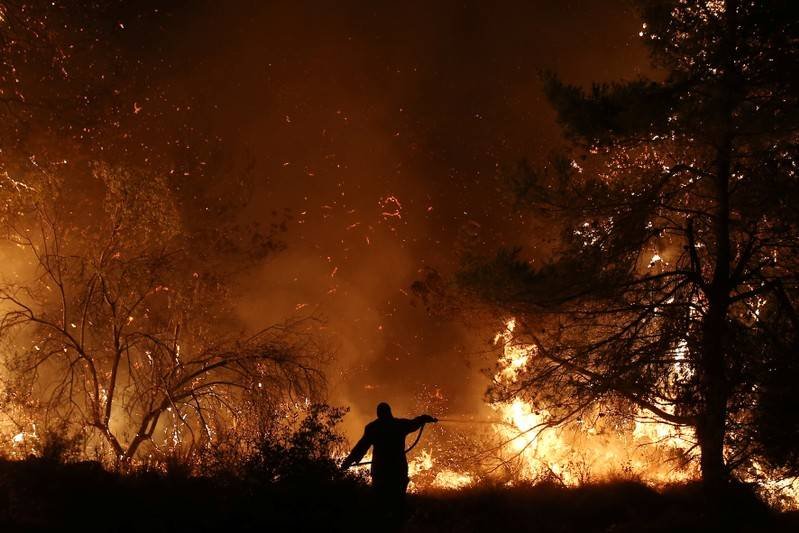 Around 600 villages were evacuated overnight in western Spain as a wildfire blamed on arsonists scorched up to 8,000 hectares (19,800 acres) near the border with Portugal, officials said.
Strong winds were making it difficult to suppress the flames in the thickly wooded districts of Las Hurdes and Sierra de Gata in the Extremadura region on Friday, according to emergency services.
According to the Civil Guard, people from three villages—Cadalso, Descargamara, and Robledillo de Gata—were evacuated, and three routes in the vicinity were closed. Up to 260 firefighters and 165 soldiers were fighting the blaze, authorities said.
Guillermo Fernandez Vara, president of the Extremadura region, said efforts to control it were being hampered by winds gusting at up to 60 kilometres per hour (35 mph) and by the forested landscape.
"The pine trees are petrol canisters, and the pine cones are flamethrowers," Fernandez Vara said, adding that he believed the blaze was started deliberately.
"Whoever did it knew what he was doing, how to do it, and when to do it," he said.
Prime Minister Pedro Sanchez cancelled a visit to the region planned for Friday ahead of local elections next week, his press office said.
An unusually dry winter across parts of southern Europe, coming after three years of below-average rainfall in Spain, has raised the risk of wildfires.
The European Union's Copernicus Climate Change Service (C3S) warned of the extreme danger of fires in other parts of Spain, especially around the city of Zaragoza in the northeastern region of Aragon.
Changing weather conditions associated with global warming will further increase the danger of blaze in Europe, according to research by the European Commission.
A total of 493 fires destroyed a record 307,000 hectares in Spain last year, according to the European Forest Fire Information System.