NSIB, NCAA begin investigation into Max Air incident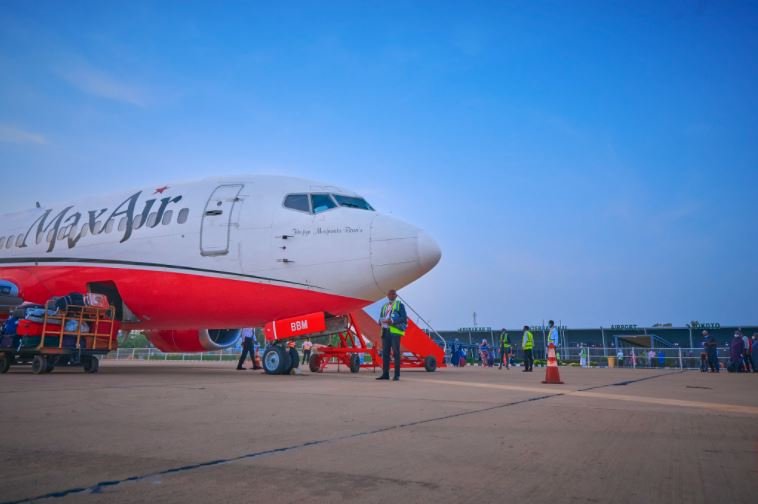 The Nigeria Safety inquiry Board (NSIB) and the Nigerian Civil Aviation Authority (NCAA) have stated their willingness to undertake an extensive inquiry into the cause(s) of the Max Air plane's tyre failure.
On Sunday, the tragedy happened at the Nnamdi Azikiwe International Airport (NAIA) in Abuja.
The NCAA Director General, Capt. Musa Nuhu, said in a statement published on Monday in Abuja that the findings of the probe will assist the authorities in making necessary recommendations to avoid such instances in the future.
"With 144 passengers and six flight crew on board, Max Air flight NGL1649, a B737 aircraft with registration 5N-MBD, departed Yola for Nnamdi Azikiwe International Airport, Abuja."
"During the landing at Abuja Airport, the aircraft lost some tyres." "The flight crew safely brought the aircraft to a stop on Runway 22 at 2.57 p.m. local time."
"All persons on board were evacuated safely, and the airport emergency services' response, including rescue and firefighting services, was excellent," he added.
The NCAA president said that Abuja airport was closed owing to a disabled aircraft on the runway, since Nnamdi Azikwe International Airport has just one runway.
According to Nuhu, NAMA issued a Notice to Airmen (NOTAM) in response.
"All relevant agencies, including NCAA, FAAN, NAMA, and NSIB, swung into action collaboratively to ensure the prompt removal of the disabled aircraft from the runway and the airport's reopening for flight operations."
"Several domestic and international flights, both domestic and international, were stranded at Abuja Airport, while incoming flights were diverted to other airports."
"The damaged wheels of the aircraft were replaced, and the aircraft taxied on its own power from the runway to an assigned parking position," he continued.
According to him, the NCAA, the Federal Airports Authority (FAAN), and the Nigerian Airspace Management Agency (NAMA) examined and swept the runway for damage and debris before declaring it safe.
He said that the airport was later reopened for the commencement of aircraft operations after 8 p.m.
"It came to the NCAA's attention because of sensational media reports of the incident, which classified it as a crash landing, causing panic and concerns among the travelling public."
"The media is urged to seek clarifications or information in order to report accurately on any situation."s
"The travelling public should have confidence that the NCAA and other aviation agencies will go to great lengths to ensure continued safe flight operations in Nigeria, as has been the case for several years," he added.