Leaked Audio: Ganduje laments how Tinubu used and dumped him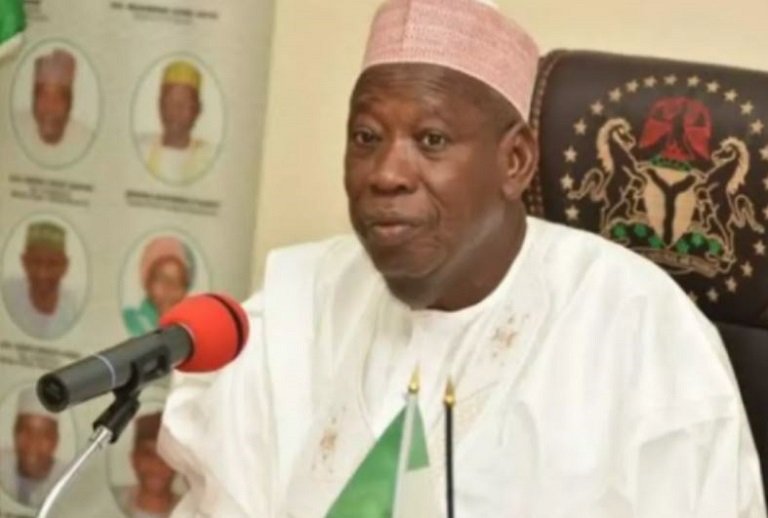 A leaked audio between Governor Abdullahi Ganduje and Ibrahim Masari, a vice presidential placeholder of the All Progressives Congress (APC) has revealed how Nigeria's president-elect Bola Tinubu has embraced Rabiu Kwankwaso, the presidential candidate of the New Nigeria Peoples Party (NNPP) over Ganduje who worked for him to emerge president.
Tinubu met Kwankwaso in France to discuss a variety of issues including appointing the latter into his administration.
Confirming the meeting, Ganduje in the leaked audio expressed disappointment at Tinubu's decision to embrace his local political rival in Kano State.
"I can't do anything since Kwankwaso has become an alternative to us. There is no problem," Ganduje said.
The action by Tinubu has began unsettling his party, the APC even before he is sworn-in. The former Lagos governor had in the same fashion, undermined Rotimi Amaechi, a chieftain of his party for Governor Nyesom Wike in Rivers State.
Read transcript of leaked audio below:
Ganduje: Hello
Ibrahim Masari: Your Excellency
Ganduje: How is work and everything? How is Abuja
Masari: Glory be to God, I just came into Abuja
Ganduje: Kano is all over with noise.
Masari: Your Excellency, I told you what is going on, but you denied it. What should I say? I told you what's happening, but you denied it and expressed surprise over it. How would this be happening, and so on?
Ganduje: Even if I heard it, there is nothing I can do about it. Isn't it?
Masari: But you can speak to him at that time, you can call him and talk to him.
Ganduje: To tell him what? I can't do anything since Kwankwaso has become an alternative to us. There is no problem.
Masari: It hasn't reached that stage. That's impossible
Ganduje: Because we don't have government?
Masari: Are you coming on Thursday?
Ganduje: It's because of him that we lose reelection.
Masari: You should be patient. Even your enemies know that he wasn't fair to you.
Ganduje: The right thing is that even if he will grant Kwankwaso audience, it should be in our presence. We should be invited. Did you understand? Even if it is symbolically.
Masari: Your Excellency, you should be patient. I wish you safe journey
Ganduje: Everything is in the hands of God
Masari: You're right
Ganduje: All these calculations
Masari: They are very wrong. Everybody will be scared to work with him
Ganduje: This man did not end well with Jonathan. He gave him work but ended up painting the government as corrupt.
Masari: Yes, you're right
Ganduje: Because he wasn't allowed to partake in corruption, it's not a matter that he was clean.
Masari: What brought the issue of he is clean? The truth of the matter is that they weren't fair to you. You should just be patient but leave it until you arrive.
We've started the discussion, he called me and I told him that Mr. President, you're wrong. He said, "What have I done again?" He started explaining it to me that it was SLS and Chagaury that led them and so on.. I asked him whether he had spoken to you, and he said no. Is he seeing these things. Leave it until you come, you know this conversation on the phone is unsafe.
I wish you a safe journey. You should just keep mute as you did, maintain your maturity by not speaking on the matter
Ganduje: What intelligence told me is that they want his intervention to scuttle the case at the tribunal
Masari: There is that game plan. It's not his right. You have that right, Excellency.
Ganduje: He's not showing interest over the matter.
Masari: Excellency, you should let this matter go, I don't like these conversations on the phone. Allow it when you come tomorrow or next tomorrow, then we sit down and discuss. If the need arise,s we can call him.
Ganduje: When is he coming back?
Masari: Wallahi, I don't know, we have spoken, not that good, and I even showed him my anger.