Sudan in chaos as military rivals face off in power struggle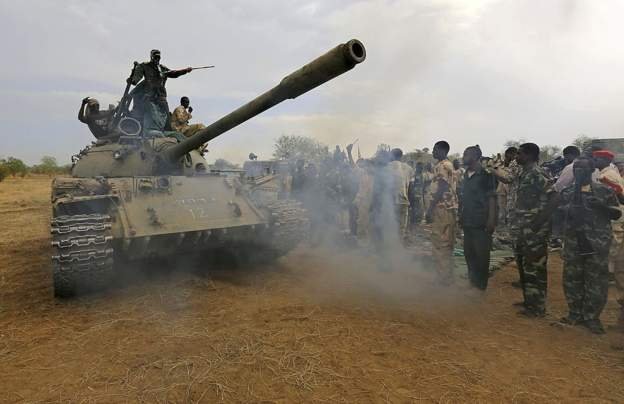 After a power struggle descended into confrontations that left 56 civilians and dozens of combatants dead, the Sudanese army began airstrikes on a rival paramilitary force's camp close to the capital on Sunday in an effort to regain control of the lawless nation.
The Rapid Support Forces (RSF), headed by General Mohamed Hamdan Dagalo, also known as Hemedti, and army forces loyal to General Abdel Fattah al-Burhan engaged in combat on Saturday. The outbreak was the first of its kind since both parties banded together to overthrow President Omar Hassan al-Bashir in 2019.
The United States, China, Russia, Egypt, Saudi Arabia, the United Nations, European Union, and African Union are among the international organisations that have called for a rapid halt to the fighting.
On Sunday, neighbours and regional organisations stepped up their efforts to put a stop to the violence. According to a statement by the Egyptian president, it included a proposal from Egypt and South Sudan to intervene between the battling sides.
After a day of intense battle, the army reportedly targeted an RSF base in Omdurman, a city next to the capital Khartoum, according to witnesses late on Saturday.
The airport and other important facilities in Khartoum, where battle raged overnight, were claimed by both the military and the RSF.
The two competitors have been vying for control as political groups discuss establishing a transitional government after a military coup in 2021.
Residents claimed to have heard loud artillery blasts and gunshots in the early hours of Sunday. The television station Al Arabiya reported images of a dense smoke cloud rising over several of Khartoum's neighbourhoods.
We haven't slept for the last 24 hours due to the loudness and shaking of the home because we are afraid. Huda, a teenage inhabitant of southern Khartoum, told reporters, "We're afraid about running out of water, food, and medication for my diabetic father.
Everyone is lying, and there's a tonne of misleading information out there. We don't know how or when this will stop, she said.
The electricity was off, according to Khartoum-based architect Tagreed Abdin, who also reported that many were attempting to save phone batteries. She said, "We can hear gunfire, shelling, and air strikes."
The army and RSF were urged to guarantee safe passage after doctor's unions complained that it was difficult for patients and medical personnel to go to and from hospitals.
According to two business executives who spoke to reporters on Sunday, the government-appointed telecoms regulator ordered Sudan's MTN telecommunications operator to stop internet access.
Rising tensions over the RSF's incorporation into the military were followed by violence over the weekend. The signature of a deal with political parties on a democratic transition that is endorsed by the international community has been postponed because of the debate over the timeline for it.
As Sudan battles economic collapse and ethnic strife, a prolonged conflict might disrupt attempts to progress towards elections and spark wider unrest.
Caught In The Fighting
Numerous groups of individuals claimed to be stranded close to the military command centre and presidential residence.
A teacher told journalists that 250 kids and 25 instructors were stranded without food at a school all day Saturday and into the night, less than a kilometre from the presidential palace. He said that there were still around 50 students whose families hadn't gotten in touch with them.
One little kid who entered the school courtyard and was shot in the chest survived, according to a doctor.
Military aircraft were seen on camera flying close to the city, with at least one of them seeming to launch a missile.
The army said that "the hour of victory is near" in a statement on Sunday.
"We ask for pardon for the unintentionally lost lives as a result of this careless expedition by the rebel Rapid Support militia… God willing, we shall soon have some positive news for our patient and proud people.
According to the Central Committee of Sudanese Doctors, since the violence started, at least 56 civilians have died and 595 individuals, including fighters, have been injured. According to the report, around half of the dead civilians came from areas outside of Khartoum.
The physicians' committee said that several military soldiers were also killed but did not provide an exact figure owing to a lack of firsthand knowledge from the hospitals where those wounded were brought.
At a meeting of the Arab League held on Sunday to review the situation in Sudan, which is also a member of the League, Egypt urged the combatants to secure the protection of all Egyptian interests in Sudan.
Sudan advocated for letting the Sudanese resolve their own conflict without outside intervention during an address to the league.
On Sunday, the Peace and Security Council of the African Union held an emergency meeting to review the political and security developments in Sudan.
The presidential palace, army chief's house, state television station, and airports in Khartoum, the northern city of Merowe, El Fasher, and West Darfur state were purportedly taken over by the RSF on Saturday morning. These claims were denied by the army.
Businesses, schools, banks, and government buildings were all told to shut on Sunday.
In order to engage in negotiations, the military forces declared that the RSF must be disbanded. Soldiers attached to the RSF were instructed by the army to report to adjacent army units, which might cause the RSF to lose members if they comply.
Burhan, the military commander, was referred to as a "criminal" and a "liar" by RSF leader Hemedti, the deputy head of state.
"I call for prayers so that weapons may be laid down and that dialogue may prevail to return to a path of peace and concord," Pope Francis said in his weekly speech in St. Peter's Square.