Lagos police recover 21 illicit firearms, intensify mop-up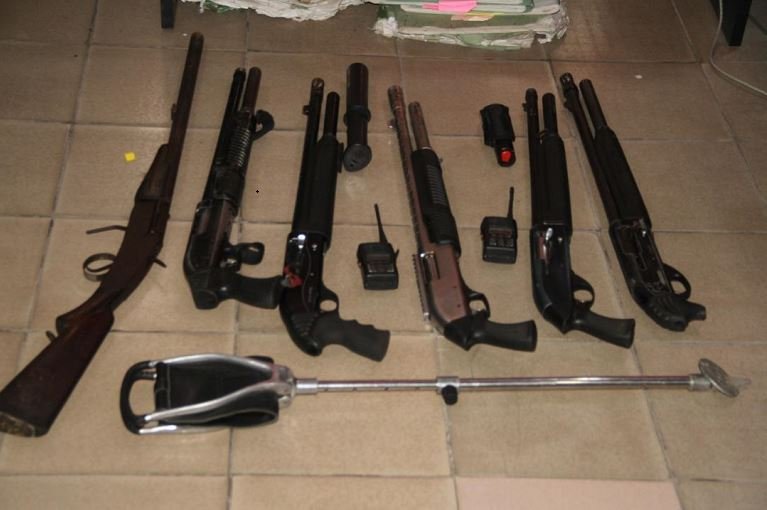 The state police headquarters reported on Friday that no fewer than 21 different weapons were retrieved from non-state players throughout Lagos in March.
This comes right after the service claimed that it had increased its efforts to seize illicit weapons in accordance with instructions from Inspector General of Police (IG) Alkali Usman.
At his first news conference at the Officers' Mess in Ikeja, Police Commissioner Owohunwa Idowu provided the specifics and assessed security activities during the most recent general election.
He claimed that the leadership had implemented the closed circle theory of law enforcement to seize these illicit weapons while also tracing their origins.
Idowu said the police would not stop until the syndicates responsible for the spread were apprehended and brought to justice while acknowledging that a prohibited weapon in the hands of a non-state player posed a challenge to law enforcement.
We are continuing to track down the suppliers of these weapons, he said. We do make arrests, retrieve weapons, and use a concerted strategy in accordance with the IG's order to remove illegal guns from public areas.
We are not separating the retrieval of a weapon, according to the strategy method. If we find one, we use the circular circle theory of law enforcement to find its source. The network behind the spread of weapons can only be destroyed in this manner, and I believe it is starting to show results.
If you've been keeping up with the news, you know that the Ilupeju section waved down a bus a week ago based on the information and made an effort to flee. They pursued them hard, caught them, and found an English gun. They appeared to be travelling for surgery.
The key takeaway is that we will continue to make an attempt to identify the perpetrators in order to make sure that our mop-up operation is effective and long-lasting. In order to successfully accomplish this, we also require the public's assistance in sharing information that will aid in the capture of gun smugglers. "We found 21 guns of various calibres and accuracy in March alone. We'll continue it in the hopes that the legal system will back us up and guarantee that those who were detained receive swift justice.
The police head added that the command was successfully solving many abduction cases while pointing out that because the crime was opportunistic, there would inevitably be sporadic incidents.
Idowu said 54 significant events were reported across all 13,325 voting places, and he added that 45 offenders were detained in the two polls.
He claimed that during police election security operations, 2,870 Permanent Voters Cards (PVCs), seven guns, including two rifles, 28 stolen voting boxes, one BVAS machine, and a POS system being used for vote-buying were all found on different electoral criminals.
"Out of the cases under investigation, it is also on record that Lagos State was the first command to wrap up the investigation of the first sets of fourteen (14) electoral offences and promptly processed eight to INEC for prosecution in accordance with the Electoral Act and the Inspector General of Police's directives, while others involving illegal firearm possession and various criminal acts were charged to courts by the Police.
In an effort to sanitise our electoral space and deter the use of extra-legal means to further political ends in future electoral engagements in the state, investigations into the remaining electoral offences have advanced to advanced stages, and once they are concluded, they will be similarly processed for prosecution.
"The Presidential and National Assembly Elections, as well as the Gubernatorial and State Houses of Assembly Elections, presented some isolated challenges that were fundamentally fueled by fake news purveyors, hate news propagandists, political extremists, thugs, and ethnic chauvinists all of whom fraudulently manipulated the social media to threaten the electoral process as well as to incite conflict and endanger peace and security in the larger polity.
It is with a sense of professional satisfaction that I note how the Lagos State Police Command overcame these difficulties to provide Lagosians with what has been widely hailed as the most peaceful, secure, and credible electoral engagement, in comparative terms, in the state's recent history.
"This much was evidenced not only by the exceptional civility with which we policed the peaceful electorates but also by the professionalism with which we responded to the localised and isolated security breaches that were orchestrated by electoral adversaries and the promptness with which we stabilised the security order all throughout the performance of our duties in the 2023 General Election.
"Our exceptional performance was also demonstrated by the fact that, in contrast to pre-election threat analysis projections that listed Lagos as one of the potential flash states where widespread electoral violence was anticipated, neither widespread electoral violence nor post-election disorder occurred in Lagos State.
In fact, the post-election pattern has been one of peace and security, with the police continuing to control the public space in a way that successfully deters malicious elements and assures the citizens, according to him.