Army veterans seek review of retirement age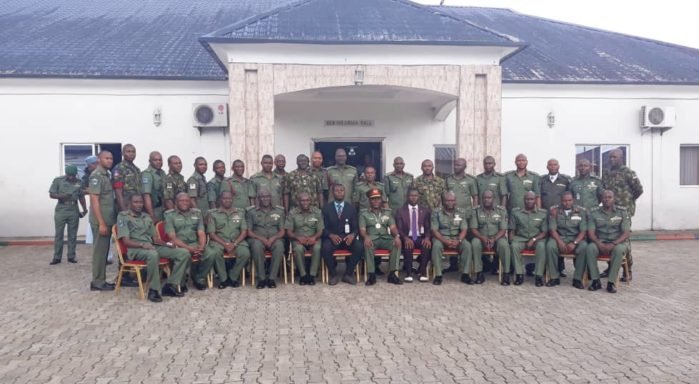 In order to maximise the potential of experts, the Nigerian Army Veterans have asked for a revision of the departure limit for active duty troops.
In a communiqué published at the conclusion of the First Quarter Year 2023 Veterans Affairs Seminar and Workshop conducted in Calabar on Friday, the veterans made the request.
Col. Victor Ibeh, Deputy Director of the Army Headquarters in Abuja's Veterans Affairs Directorate, issued the statement.
The training was designed for Army members who have recently resigned and those who are about to do so.
Ibeh claimed that as part of their pre-retirement strategies, the players urged the soldiers of the Nigerian Army to foster positive ties with their families.
He claimed that in order to create effective retirement programs, they also encouraged the service staff to develop a habit of saving.
Ibeh further stated that in order for the soldiers to gain regard in their various communities, they must perform community work and show reverence to influential members of the community.
He mentioned that in order to ease access to easy loans, veterans were encouraged to establish joint organisations.
"Workshop participants approved an evaluation of the retirement age for the military in order to optimise the potential of experts.
In order to benefit from their abundance of expertise in support of Nigerian Army activities and training, the Nigerian Army should continue to hire soldiers in general training and other specialist services.
The Federal Government must include initiatives and events for soldiers in its yearly funding.
In order to collaborate and assist military activities, it was recommended that serving troops get along well with former members of the Nigerian Army, he said.
Lt. Gen. Faruk Yahaya, the Chief of Army Staff, stated during a speech that the Army leadership would consider the request for a revision of the retirement age for active duty troops.
Maj. Gen. Abubakar Bello, Director of the Veterans Affairs Division at Defense Headquarters in Abuja, acted as the Chief of Army Staff's representative.
He explained that the purpose of the session was to examine how the Armed Forces could employ soldiers to help with missions and other capacity-building initiatives.
The request for a revision of the retirement age is a policy matter that would be evaluated on its own grounds; it may or may not be taken into consideration.
"A judgement on these matters cannot be made at this time. We conduct this lecture frequently to close the communication divide between active-duty and discharged troops because there is a need for soldiers and others to connect.
"We are confident that the communiqué, on the basis of its own merits, will receive the desired attention at the highest level."
Other factors, such as staff terms and conditions of employment, will need to be taken into account.
He declared that it was premature to provide any figures for the suggested retirement age at this time.