Utomi calls for a review of the presidential poll ballots in 10 states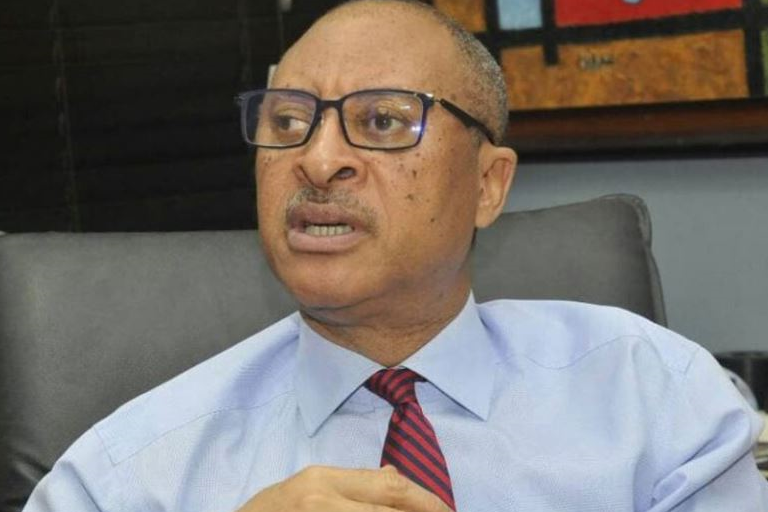 Prof. Pat Utomi, a political economist, has called for a review of the results of Saturday's presidential election in ten states of the federation.
Utomi, the Convener of The BIG-TENT Coalition of Political Parties, Social Movements, and Civil Society Organizations for Obi-Datti, made the announcement at a news conference in Lagos on Friday.
Lagos, Rivers, Imo, Benue, Nasarawa, Plateau, Kaduna, Katsina, Adamawa, and Akwa Ibom were among the states he mentioned.
"We want to urge INEC to show good faith and not wipe their server of activities of the Feb. 25 presidential election in the excuse of having it ready for March 11.
"We also want to request that INEC administratively begin a review of the votes in 10 states.
"All we seek is sunlight. We accuse none and come with malice toward none but are assured that our children will have better tomorrow if we ensure that sunlight and transparency define our electoral ways.
"We ask for an INEC review. If this fails to bring justice then a court process to reverse rigging and call the true winner.
"Where that is difficult for the system, we call for outright cancellation of the election of Feb. 25, and ensuring that enthusiasm allowed to flow through to March 11 with assurance of a free, fair and transparent election," Utomi said.
According to him, it is exactly nine months when he welcomed the Labour Party Presidential Candidate, Mr Peter Obi into a movement of the Third Force.
He said the Third Force was built with grinding effort with the Nigerian Labour Congress, the Trade Union Congress, the New Fabian Society of the Concerned Professionals and a potpourri of Civil Society Organisations.
Utomi said that it was built on hope, deep concerns for the dignity of all Nigerians, a special care for women, young people and a desire for inclusion, especially of the not so enabled.
"Within six months, the movement unleashed by the Obi candidacy which was first laughed at as four men tweeting in a room was generating panic in the traditional class, much thanks to young people subjected to abuses of all kinds from public authority.
"They wanted their PVCs to make the point that needed to be made and our country experienced a surge in new voter registration.
"The pensioners and middle class followed the path walked by the youth in this country in which the median age is 18.2 years and the vast majority of the population is youthful," he said.
Utomi said that, however anyone diced it, the Nigerian people deserved a huge show of gratitude from the Big Tent for believing in the vision of a Nigerian redemption.
According to him, it is important to note that whatever may be the case, the people have made their point.
"Nigeria will not be the same again because of the faith shown by Obidients who came of different ethnic, religious and economic class configurations.
"They simply believed a new Nigeria was possible. This is victory and for me a personal triumph. My life's work evidently is approaching its epogy and I am thankful to God for that.
"The only way to concretise these gains is not to get tired or distracted.
"These include a massive turnout at the election of March 11 as voting "Mama, Papa, Pikin" to paint Nigeria Labour," he added.
He urged INEC to provide Nigerians guaranties of Bimodal Voter Accreditation System (BVAS)and what system it would use on March 11 and the general integrity of elections in Nigeria.
Emphasising accountability and transparency as the essence of democracy, Utomi said that the first thing in that spirit was respect for the will of the people.
According to him, one sure way of enthroning that is ensuring governance norms and very transparent processes and systems.
"The key to such accountability is sunshine. It is typical bureaucratic tradition to make things secret but INEC cannot regain the confidence of the world if it continues down that path.
"An electoral commission must like Ceaser's wife, be ever beyond reproach," he stated.
Expressing confidence in LP 's victory in the end, Utomi urged all Obi's follower to cheer up and act rather than suppress emotions and be sick from such.
On future elections, Utomi berated use of political thugs by some politicians to intimidate and visit terror on opponents, prevent them from voting, alter the vote and often maim them.
He also decried that in the end there would be no consequences for the perpetrators of political violence.
"This is why the pattern resurfaces every four years. We shall forward the list of governors, other elected officials and their henchmen involved in electoral practice to the International Criminal Court and demand prosecution with strong sentence or conviction.
"We also charge the system to hold accountable, security people on whose watch violence and rigging has been allowed.
"We invite evidence which is plentiful against these men and women for consequences beginning with ostracisation to trials, naming and shaming," he said.
Utomi urged the electoral umpire to make the March 11 governorship and House of Assembly elections different from the Presidential and National Assembly Elections held on Feb. 25.
He said: "If INEC cannot assure that, its leadership must step down and move aside. We seek the same of law enforcement agencies. Self-preservation is the first law of nature.