US military conducts first maritime drills with Nigeria, Ghana forces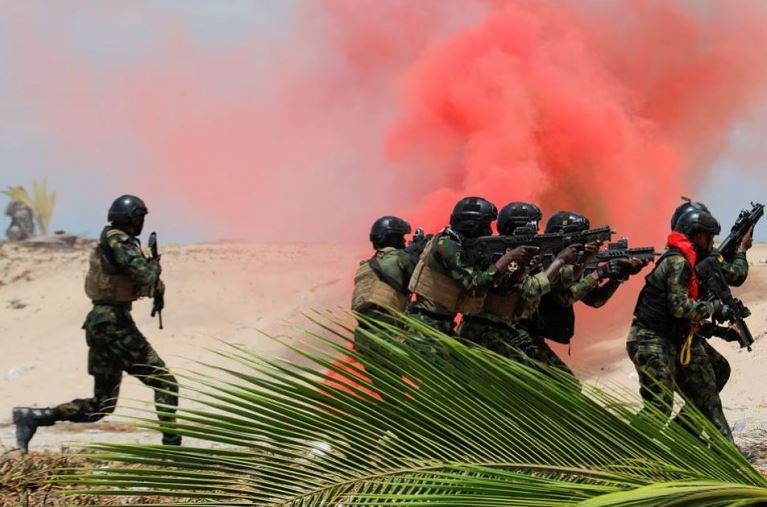 The United States military has conducted its first maritime drills with Nigeria, Ghana, and Ivory Coast forces in the West Africa region.
The maritime drill in Ghana's Volta river on Saturday was carried out during the first ever maritime exercises organised by the US military under its long-running Flintlock programme to bolster the skills of West African forces.
The sea-based training in the first half of March culminated with soldiers holding their guns aloft as they braved neck-high waves before storming a beach resort to defuse a staged hostage crisis. Military bigwigs and diplomats watched from nearby.
Admiral Milton Sands, commander of the US Special Operations Command for Africa (SOCAF), said the programme had expanded to help coastal nations in the region cope with maritime threats such as piracy and illegal fishing.
Unauthorised fishing "is a significant one that we're really trying to work with our partners to get our arms around slowing down," he told Reuters on Tuesday.
He said illegal fishing not only robbed the region of a key food source, but fuelled other criminal activity including drugs and human trafficking.
Around 350 troops took part in the maritime drills including servicemen from Ivory Coast, Ghana and Nigeria on the Gulf of Guinea. The area has become a global piracy hotspot in recent years although cases have fallen there since 2021, according to the UN Security Council.
Illegal, unreported and unregulated (IUU) fishing has spread along West Africa's coasts, sapping an estimated $9.4 billion per year through illicit financial flows, according to a 2022 report by the Financial Transparency Coalition of non-governmental organisations.
Of the top 10 companies they found involved in IUU fishing in the region, eight were Chinese and a third of all vessels sported Chinese flags, it said.
Commodore Godwin Livinus Bessing, commander of Ghana's Naval Training Command, said tackling IUU fishing had become a top priority, citing a lack of resources to deal with the foreign boats stealing from Ghana's waters.
"They continue to flout our regulations because of our enforcement capabilities," he said. "That is one of the biggest problems. If we had enough ships out there and they knew we were monitoring the place, we would be able to curb the situation."