Protesting retirees in Lebanon tear-gassed by security forces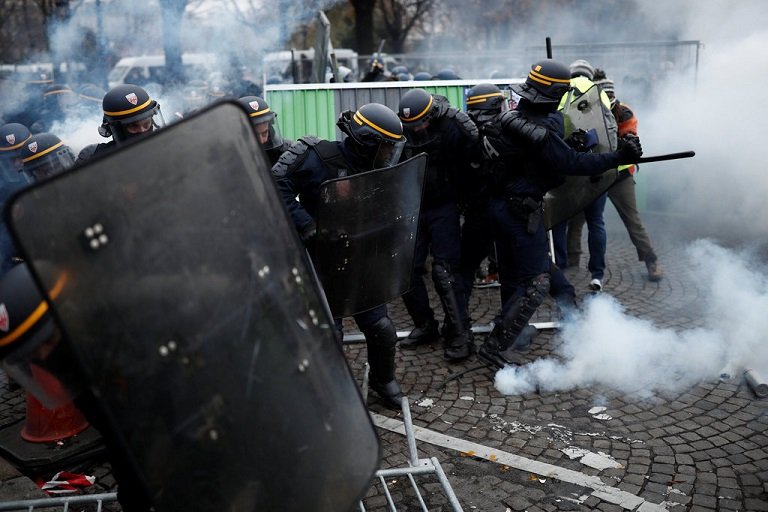 On Wednesday, Lebanese security forces fired tear gas at hundreds of protesters, mostly retired security personnel, who had gathered near government buildings in Beirut in protest of the country's deteriorating economic conditions.
Crowds gathered in downtown Beirut's streets between parliament and the government serail, carrying Lebanon's tricolor or flags with security forces' logos.
They were outraged by the depreciation of state pensions paid in local currency. Since 2019, the pound has lost more than 98% of its value against the US dollar.
"Our kids are hungry. We're hungry," said Mohamad el-Khateeb, a 59-year-old who had served in the army for 32 years.
"We left the army with nothing. No healthcare, no welfare, our kids are out of school and prices are rising obscenely. What do you expect?" Khateeb told a journalist.
Some of the men tried to cross one of the checkpoints leading to a government building, prompting security forces to fire tear gas to keep them back, according to a media reporter.
Protesters dashed away from white clouds emanating from locations around the serail. One soldier was seen treating a young boy who was affected by the tear gas.
"If he fires on us, he's firing on our rights and on his rights at the same time," said army veteran Ahmad Mustafa, 60.
"He's suffering just like me," he told the reporter, clutching two of the tear gas canisters fired just moments earlier.
There was no immediate statement from the Lebanese army.
Lebanon's economic meltdown began in 2019 after decades of profligate spending and alleged corruption. Its onset prompted the most wide-ranging protests the country had seen in years, but they fizzled out and rallies have been sporadic since.
The country's top financial and political leaders have allowed the crisis to fester, with the Lebanese pound hitting an all-time low of 140,000 to the U.S. dollar on Tuesday before an intervention by the country's central bank.
Lebanon's army troops and members of the security forces are receiving salary support in U.S. dollars from the United States and Qatar for the first time.