Bus-train crash: Lagos govt to sue staff bus driver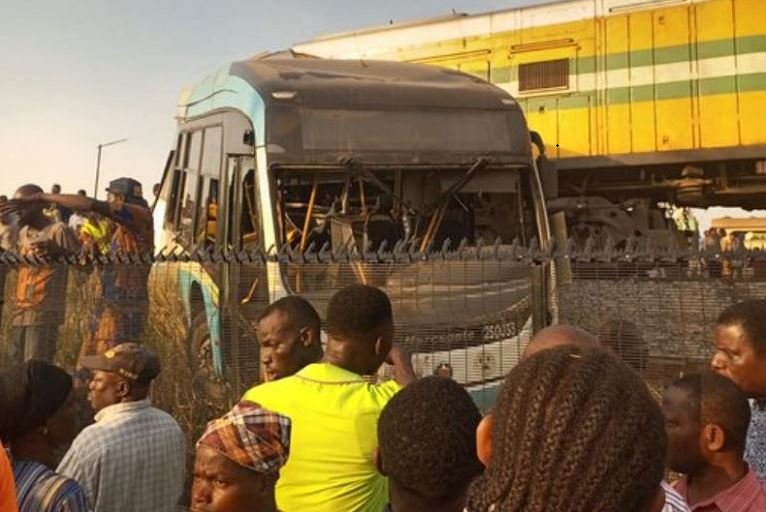 The Lagos State Government has promised to charge the driver of the staff bus that collided with a train at the PWD railway crossing on March 9 with six counts of manslaughter and ten counts of grievous bodily harm.
Both offenses are in violation of Sections 224 and 245 of the Lagos State Criminal Law, 2015.
According to a statement issued by the state's Ministry of Justice's office of the Director of Public Affairs on Friday, the Director of Public Prosecution (DPP), Dr. Jide Martins, reviewed the case file and established a prima facie case of manslaughter and grievous bodily harm against the driver of the staff bus.
It would be recalled that on the morning of March 9, a LASG staff bus collided with a train at the PWD railway crossing in the Ikeja Local Government Area (LGA).
The speed and impact caused the train to push the bus with its passengers along several metres of the rail until it came to a stop at Sogunle, a suburb of Ikeja, Lagos State.
"The horrific incident which involved a LASG staff heading to work in the staff bus and passengers of the train resulted in 6 fatalities with about 96 others with various degrees of injuries. The injured victims were hospitalized across many Government Hospitals in the State," the statement read.
"The driver of the staff bus on the fateful day (Mr. Oluwaseun Osibanjo) was apprehended and handed over to the Police for investigation and possible prosecution by the State. At the end of investigation, the casefile was forwarded to the DPP for further statutory actions".