BREAKING: LP's Alex Otti emerges winner of Abia gov election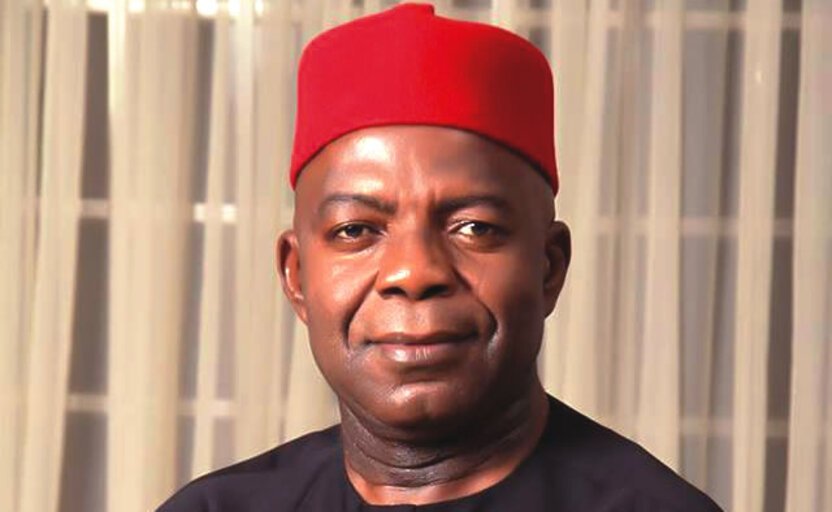 Following the eventual declaration of the results of the contentious Obingwa Local Government Area results on Wednesday, the Labour Party candidate, Alex Otti, was declared the winner of the Abia State governorship election.
Following the completion of the collation of the outstanding election results, the Peoples Democratic Party received 9,962 votes in the LGA, while the Labour Party received 3,776 votes.
As a result, the LP has won in ten LGAs, the PDP in six, and the Young Peoples Party in one.
The Labour Party's governorship candidate in Abia State, Chief Alex Otti, was declared the winner of the 2023 governorship election in Abia State.
Otti polled a total of 175,466 to defeat his closest rival and candidate of the PDP who scored 88,526.
The Returning Officer, Prof. Nnenna Oti, declared the LP candidate the winner at the headquarters of the Independent National Electoral Commission in Umuahia, the state capital, Wednesday afternoon after completing the suspended collation of results.
The distribution of the governorship election results across the 17 LGAs of Abia State is as follows:
(1) Aba North
APC – 487
APGA -1404
APP- 549
LP- 20974
PDP- 4146
YPP- 2296
(2) Aba South
APC – 487
APGA – 1470
LP – 20,974
PDP – 4146
YPP – 2296
(3) Arochukwu
APC -1082
APGA -460
APP- 893
LP- 12689
PDP- 1280
YPP- 410
(4) Bende
APC – 2143
APGA -947
APP- 2733
LP- 9886
PDP- 5410
YPP – 1667
(5) Ikwuano
APC -1198
APGA- 499
APP-515
LP-7054
PDP-2427
YPP-270
(6) Isialangwa North
APC – 838
APGA -225
APP- 78
LP- 7327
PDP- 21741
YPP 18
(7) Isialangwa South
APC – 1580
APGA -366
APP- 134
LP- 7589
PDP- 9093
YPP 1691
(8) Isuikwuato
APC – 872
APGA -3662
APP-
LP- 8228
PDP- 2204
YPP 0
(9) Obingwa
APC – 721
APGA -1445
APP- 192
LP- 3776
PDP- 9926
YPP-3101
(10) Ohafia
APC – 1354
APGA – 945
APP – 1013
LP – 11,848
PDP – 4128
YPP – 667
(11) Osisioma
APC – 504
APGA – 292
APP – 123
LP – 7032
PDP – 4697
YPP – 8839
(12) Ugwunagbor
APC -375
APGA- 398
APP- 514
LP- 2159
PDP- 2538
YPP- 1805
(13) Ukwa East
APC – 560
APGA -646
APP- 890
LP- 2273
PDP- 2329
YPP – 759
(14) Ukwa west
APC – 1209
APGA -830
APP- 699
LP- 2833
PDP- 4622
YPP – 890
(15) Umuahia North
APC – 7225
APGA – 1816
APP – 905
LP – 27668
PDP – 4843
YPP – 2999
(16) Umuahia South
APC – 1398
APGA – 1841
LP – 16,187
PDP – 4564
YPP – 323
APP – 562
(17) Umunneochi
APC – 2034
APGA -581
APP- 699
LP- 5940
PDP- 3198
YPP – 314