BBNaija: Five celebrity housemates who found love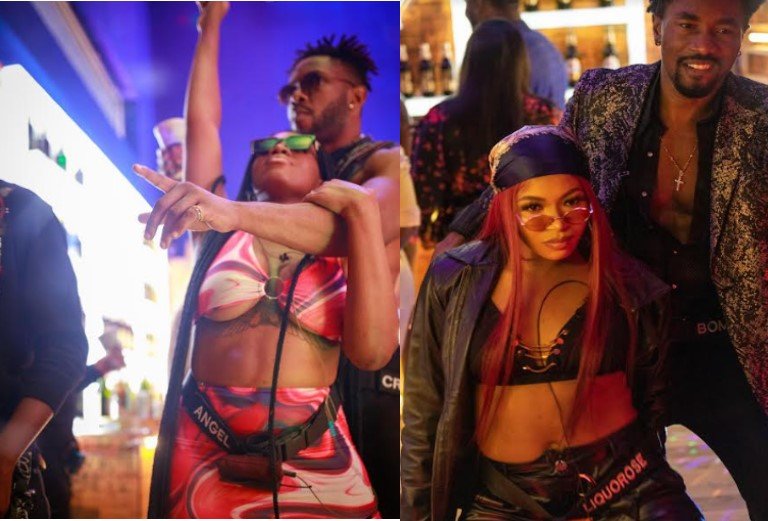 The reality television program Big Brother Naija (BBNaija), which has been on our screens for almost 20 years, has experienced its fair share of romance, drama, and other emotions.
Numerous reality TV programs have been instrumental in fostering kinship and long-lasting relationships. Big Brother is no exception, as it has served as the catalyst for a number of famous unions. Many of these relationships continued and flourished, but others weren't as lucky.
As we explore the love stories that have come out of the Big Brother house over the years, please bear with us:
BamBam and Teddy A
Tope Adenibuyan, popularly known as Teddy A, and Bamike Olawumi, fondly called BamBam, met as housemates in Big Brother Naija (BBNaija) Season Three of the reality TV show tagged "Double Wahala".
But their love story didn't end when the show did. In fact, it was just the beginning! The duo started a beautiful relationship in the Big Brother house that eventually blossomed even outside the show.
On the 4th of August, 2019, they shared the news of their engagement on Instagram, sending fans into a frenzy. And just a few months later, on the 16th of November, they sealed the deal with a glamorous white wedding in Dubai.
The event was graced by other celebrity ex-housemates, making it an unforgettable experience for everyone involved.
In an interview with Pulse, BamBam revealed her initial impression of Teddy A when she first saw him in the house, saying: "When I saw you in the house, I was like, this is the typical kind of person our parents used to warn us about. Problem, danger. But look at me now," she said while stroking her baby bump.
What's even more impressive is that Teddy A and BamBam have remained one of the few couples to have made it work outside the Big Brother house. They have two beautiful children together, and their love story is both enviable and commendable.
Vee and Neo
Neo and Vee were the dynamic duos of the Lock Down edition of the reality TV show in Season 5. It didn't take long for the lovebirds to become an item in the house, as they were always seen together, holding hands, and sharing sweet moments.
Fans couldn't get enough of their relationship, and Neo's displays of love for Vee had everyone swooning.
Their love story wasn't without some drama, though. Remember the time when Neo washed Vee's pants and social media went into a frenzy? Some guys commented that it was unmanly behaviour, but Neo didn't seem to care, and that was all that mattered to Vee.
In the real world, things seemed to be going smoothly for the couple. Neo even went all out to surprise Vee on her birthday in 2021 with numerous gifts and flowers, leaving fans gushing over their love.
However, it was heartbreaking to learn that their relationship hit a rough patch when Vee posted a picture of herself with the caption "soft and single." Fans quickly noticed that they had unfollowed each other on Instagram, and rumors began to spread about a possible breakup.
Although they never publicly announced it, it was eventually confirmed that the couple had indeed gone their separate ways.
We can't help but feel sad when relationships that started in the Big Brother house don't work out in the real world. However, we wish both Neo and Vee nothing but the best in their future endeavours.
Liquorse and Emmanuel
Liquorose and Emmanuel set our screens ablaze with their passionate and steamy romance in Season 6 of the BBNaija reality TV show, "Shine Ya Eye". It was quite clear that these two were head over heels for each other.
However, it was unfortunate that the fire burned out when they entered the real world.
In a shocking revelation to the media in 2022, Liquorose spilled the tea on why the relationship ended. She disclosed that she had to end things with Emmanuel due to his numerous escapades, which left her heartbroken.
Despite Emmanuel's denial of the allegations, she had to make the difficult decision to walk away from the relationship. This news sent fans into a frenzy, with many taking sides and expressing their disappointment at the "ship" that crashed.
It's always tough when a relationship that seemed so perfect in the Big Brother house doesn't work out in the real world.
Mercy and Ike
Mercy and Ike were one of the most talked-about couples from the fourth season of Big Brother Naija (BBNaija). After Mercy emerged as the winner of the show, she and Ike made their relationship official and didn't hold back on publicising their love.
They even went on to star in their own reality TV show, the Mercy and Ike show. However, despite their public displays of affection, their relationship was short-lived.
In September 2020, Mercy shocked fans when she took to social media to announce that her relationship with Ike was a disaster and had to end.
While Ike had previously cited that their relationship could not work out because many people had their own opinions about them, Mercy simply stated that "breakups happen, we're done."
In a podcast interview, she even denied ever dating Ike, leaving fans confused and unsure of what really happened between the two.
Despite the sad end to their love story, Mercy and Ike have both moved on and continued to pursue their individual careers in the entertainment industry.
Khafi and Gedoni
Khafi and Gedoni's love story started in Big Brother Naija's ((BBNaija)) "Pepper Dem" season four. As housemates, they quickly developed feelings for each other, and their chemistry was undeniable.
Fans couldn't help but root for them, and their love story became one of the most talked about in the show.
After leaving the house, their relationship continued to blossom, and two months later, Gedoni proposed to Khafi. She said yes, and they went on to have a beautiful destination wedding in 2020. The ceremony was attended by family, friends, and fellow housemates, making it a memorable event for everyone.
Four years down the line, Khafi and Gedoni are still going strong, and their love for each other continues to grow. They are now proud parents of two beautiful kids, and their fans couldn't be happier for them.