APC PCC advises Atiku, Obi to accept defeat, congratulate Tinubu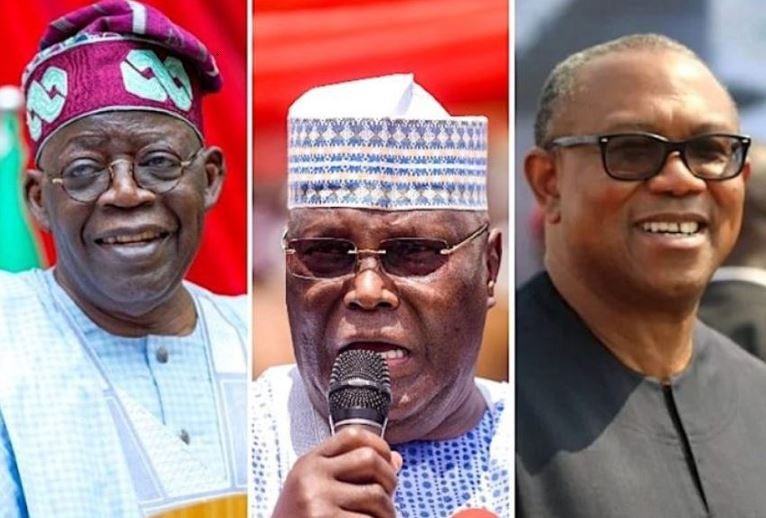 Atiku Abubakar of the Peoples Democratic Party (PDP) and Peter Obi of the Labour Party (LP) received some advice yesterday: they should emulate former President Goodluck Jonathan by calling to congratulate Asiwaju Bola Ahmed Tinubu.
The All Progressives Congress Presidential Campaign Council (APC PCC) advised the duo to contact the APC standard bearer who appeared to be the frontrunner for the presidential ticket.
APC PCC Special Adviser, Media, Public Affairs, and Strategic Communications, Mr. Dele Alake gave the advice yesterday at a news conference in Abuja.
He stated that the two candidates should take the honorable path, having received details of the results from their agents at all levels of collation to call ahead of Tinubu's formal declaration as winner of the February 25 poll by the Independent National Electoral Commission (INEC).
The APC PCC spokes on a day the West African Elders Forum (WAEF) Mission visited Tinubu at his Abuja residence.
The WAEF Mission is in the country to monitor last Saturday's presidential and national assembly elections. It urged INEC to thoroughly investigate all the election violations recorded and reported during the elections.
Former Sierra Leonean President, Ernest Bai Koroma, led the mission's delegation to Asiwaju Tinubu. In the team were former presidents Goodluck Jonathan (Nigeria); John Dramani Mahama (Ghana) and Uhuru Kenyatta (Kenya).
The WAEF also visited Obi, Atiku, and the New Nigeria Peoples Party (NNPP) candidate Rabiu Kwankwaso.
With Tinubu to receive them were: APC presidential running mate Senator Kashim Shetimma; governors Nasir El-Rufai (Kaduna); Abdullahi Ganduje (Kaduna); former governors Tanko Almakura (Nasarawa); Kayode Fayemi (Ekiti) and Senator Olamilekan Solomon, among others.
Also yesterday, the presidential candidate of the Social Democratic Party (SDP), Adewole Adebayo, urged Abubakar and Obi to accept defeat and show sportsmanship.
In a Twitter post yesterday, Adewole said Atiku and Obi should show they love Nigeria by conceding to Tinubu.
He said: "Chinua Achebe was right that leadership is the problem of Nigeria. Where are the true leaders? Same drama every election year is not progress," Adebayo wrote.
"@GEJonathan saved us in 2015. It is now time for @atiku and @PeterObi to show that they love Nigeria. The time to call @officialABAT is now.
"I have more grievances than all the presidential candidates combined. I'm least satisfied with the results. I am dissatisfied with the choice of the electorate.
"It is the prerogatives of the people to make unwise choices but the choice is clear. We can be more honest all around."
Alake said at the news conference: "We call on Atiku Abubakar and Peter Obi, to emulate former President Goodluck Jonathan by conceding defeat. This election has already been won by our candidate, according to the results declared at the collation centers in the state.
"In 2015, President Jonathan did not wait for INEC to finish collation before he called President Muhammadu Buhari and congratulated him on the true spirit of democracy and sportsmanship.
"We urge Atiku Abubakar and Obi to follow the same path of honor, instead of attempting to heat the polity via the reckless statements by surrogates. Let Atiku and Obi call Tinubu now."
In an appearance on Television Continental (TCV), former Ekiti State governor, Ayodele Fayose, urged Atiku to show maturity and accept defeat.
The one-time governor had earlier in a set of tweets, said his party – the PDP – could not have won the presidential election with a fractured party that saw the exit of Kwankanso, Obi, and the existence of the Group of (G-5) governors.
Fayose wrote: "Our candidate, H.E. Atiku Abubakar (aka 'Atiku is coming') should accept defeat in maturity and retire peacefully to Dubai. At this juncture, may I say good night and goodbye to all of you prepresent
"Therefore, no sense of comradeship with Obi will work. After all, they knew his potential, yet, he was not deemed fit for the party's ticket and he was eased out. Today, he has retired all of them.
"The present managers of the PDP need to be told that the sympathy of Nigerians is not for the party. They should stop hiding under Peter Obi's LP to pretend to have a sense of patriotism that they don't have.
"Most importantly, an election is a process and those not satisfied can vent their anger in court. It is therefore time to allow Nigeria and Nigerians to move on. If you think Nigerians love or still want PDP as an alternative, by now the message should be instructive.
"Almighty' Iyorchia Ayu, the National Chairman even lost his Ward and Local Government to another party after cashing out like a man struck and stuck with poverty. As it is now, PDP turning around to cry foul has no place with Nigerians. Not at all.
"In life, they say what goes round comes round. Beyond this, does the PDP wants to win an election with the fractured party that it is now? Kwankanso, Obi, etc were driven out of the party and they claimed they can win without the G-5 governors.
"However, I cannot but berate the PDP which has no moral right to cry foul. Those handling the party obviously knew this was going to be the outcome and possibly the end of their arrogance and sense of entitlement, especially bearing in mind they were the 2015 traitors.
"I commend the courage and resilience of the LP presidential candidate HE. Peter Obi, for his uncommon and unprecedented outing and the outcome of this election. It is not unexpected going by the support he enjoys with Nigerians."
A former Katsina governor, Ibrahim Shema, also urged Atiku, Obi, and other contestants to embrace collective national interest.
Shema told reporters in Katsina that Nigeria's democratic institutions must be allowed to discharge their roles in accordance with the rule of law
He said: "Let us be reminded that there's no perfect election anywhere in the world or elections without complaints and ours cannot be an exception. We must therefore learn to manage our situation in the interest of Nigeria and all Nigerians."