North Korea fires a ballistic missile at Japan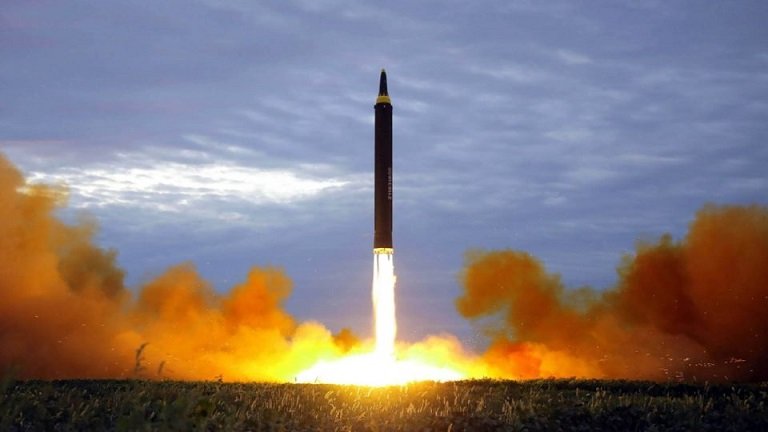 North Korea has launched an intercontinental ballistic missile (ICBM), according to Japan's government.
It was launched on Saturday, flew for 66 minutes, and landed in the Sea of Japan, according to the defense ministry.
It comes after Pyongyang displayed its massive military might in a parade that included more than a dozen intercontinental ballistic missiles.
North Korea threatened on Friday to launch "unprecedentedly strong" retaliation against any military exercises between South Korea and the US.
The annual springtime exercises, which are due to start next month, are designed to help fend off N Korea's increasing nuclear threats. But Pyongyang has long insisted the drills are in preparation to invade N Korea.
Saturday's missile, which is the first to be launched since new year's day, splashed down west of Hokkaido, in Japan's exclusive economic zone (EEZ) at 18:27 (09:27 GMT), Japanese Prime Minister Fumio Kishida said. An EEZ is an area of the sea that a country has jurisdiction over. Japan is a 200-nautical mile area off its coast.
It landed some 900km (560 miles) away and reached an altitude of 5,700km, government spokesperson Hirokazu Matsuno said in Tokyo. While that is incredibly high – the edge of space is about 100km – it is not the highest a N Korean missile has flown.
In November, an ICBM reached an altitude of 6,100km. Previously, in January 2022, North Korea released extraordinary photos of the Earth that it claimed were taken from a missile launch that reached 2,000km.
ICBMs are particularly worrying because of their long-range, including mainland United States.
Japan's Defence Minister Hamada Yasukazu said Saturday's missile would have been able to do this, with a possible range of 14,000km.
"This series of actions by N Korea threatens the peace and stability of Japan and the international community, and is absolutely unforgivable," Mr. Matsuno said.
South Korea's military reported the missile was launched from the Sunan district, north of Pyongyang, where the international airport is located. It is also where N Korea has launched most of its recent ICBM tests.
North Korea's ballistic missile and nuclear weapons programs are banned by the UN Security Council. But this has not stopped Pyongyang from continuing with its weapons development and holding elaborate military parades to show them off.
Just over a week ago, Pyongyang showed off its largest display ever of intercontinental ballistic missiles in a midnight military parade that was attended by leader Kim Jong-un.