Nigerian denied access to Ethiopian Airlines in US for being asthmatic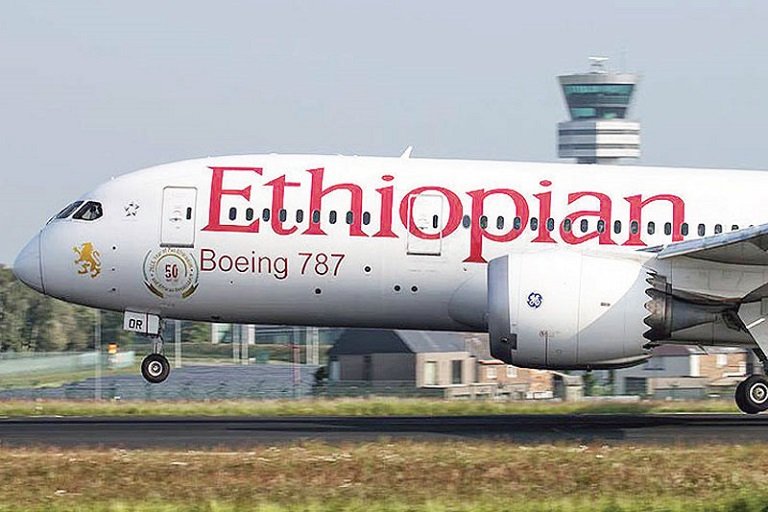 A businessman, Olasubomi Okeowo, has lamented being stranded in the United States of America after Ethiopian Airlines refused to fly him back to Nigeria because of the possibility of him needing oxygen while onboard.
Okeowo's agent purchased an economy ticket from the airline on January 6, 2023, with a return date of February 5, 2023, for N1,300,000.
The businessman said the airline was to convey him from the Murtala International Airport, Ikeja, Lagos State, Nigeria, to Newark, Texas, USA, and return him to his country.
Olasubomi Okeowo, a businessman, has expressed dismay at being left stranded in the US when Ethiopian Airlines declined to bring him back to Nigeria due to the likelihood that he could require oxygen while en route.
On January 6, 2023, Okeowo's agent paid N1,300,000 to the airline for an economy ticket with a return date of February 5, 2023.
The businessman said that the airline will fly him from Ikeja, Lagos State, Nigeria's Murtala International Airport to Newark, Texas, in the United States, and then back to his native land.
Narrating his ordeal to our correspondent, Okeowo, who is an asthmatic patient, said the airline was conveying him alongside other passengers to the airport in Newark, USA when he suddenly started reacting to the humidity, dust, and lack of fresh air in the plane.
Okeowo said he noticed his body needed oxygen and when his inhaler could not improve his condition, he quickly informed one of the air hostesses of his condition and the air hostess informed the pilot who made an announcement to know whether a medical doctor was onboard.
He said, "They promptly gave me oxygen, and I slept off. We landed safely at Newark Airport, and I walked out of the plane without any aid. When I got out of the plane and breathed in natural air, I felt normal.
"At the expiration of my stay in the US, I proceeded to the airline counter at the Terminal B of the Newark Airport and checked in like all other passengers.
"At this time, I had spent all the US Dollar cash on myself, since I was returning to Nigeria. I proceeded to sit at number 26C, and asked if the plane was equipped with oxygen."
Okeowo, who said he asked the question in case he started feeling the same way he felt the last time he boarded the plane, noted that he became surprised when one of the airline workers, Mr. Danny, told him to disembark from the plane with his entire luggage.
"I asked why and he said they won't fly me because I may consume all their emergency oxygen. I told him I don't usually require oxygen use except I am in an emergency for which they should have oxygen. I was tricked off the plane and the door was shut against me in the cold.
"I stood with Mr. Danny and asked why the airline canceled my flight and the welfare I will be placed on till the issue gets resolved.
I also summoned the station manager, one Mr. Fakada, and he tricked me that they would put me in a hotel, and more oxygen would be on the next plane to my destination for my use," the Ogun State indigene said.
Lamenting that he was urgently returning to Nigeria to close a multi-billion business, Okeowo said the ground staff of the airline informed the USA police that he was holding the departure plane to ransom.
He said, "Three policemen came, spoke gently to me, found out the issue, and told the airline clearly they must take responsibility for a passenger whom they have asked to disembark for reasons known to them.
"In all of these, I kept my cool and followed the lead of the station manager and Mr. Danny. They tricked me to wait at the check-in counter, and one by one they excused themselves from me and never returned.
"I left the airport after waiting for three hours and had to seek shelter under a shed. It will interest you that this is the winter period, and I could have died of pneumonia."
Okeowo said as he was speaking with our correspondent, he had not taken his birth for over six days and had become stranded because he had no penny to purchase food and water or transport himself to the Nigerian embassy.
He said, "I have been abandoned and marooned. If I am not rescued on time, I might die because of the cold. My luggage has been stolen, my health is starting to suffer. I am appealing to Nigerian authorities to intervene so I can be rescued."
When Okeowo petitioned the airline to express his reservation concerning the development, the airline replied to his mail and demanded $1,500 for oxygen service.
In one of the responses Okeowo provided, the airline said, "We understand that you are going through some financial challenges and unable to pay for the oxygen service you require on board.
"As mentioned to you in our email yesterday, this is entirely for your safety and the safety of other passengers since we provide limited emergency oxygen bottles on board.
"Unless requested, we don't carry extra. Nonetheless, in consideration of your situation, we have decided to provide onboard oxygen free of charge on your upcoming flight. We have booked you for Friday, February 17, 2023, and working to get the oxygen on board."
Efforts by our correspondent to get a reaction from the airline's spokesperson in Nigeria proved abortive.