NDLEA arrest High Priest, College student over Dubai-bound meth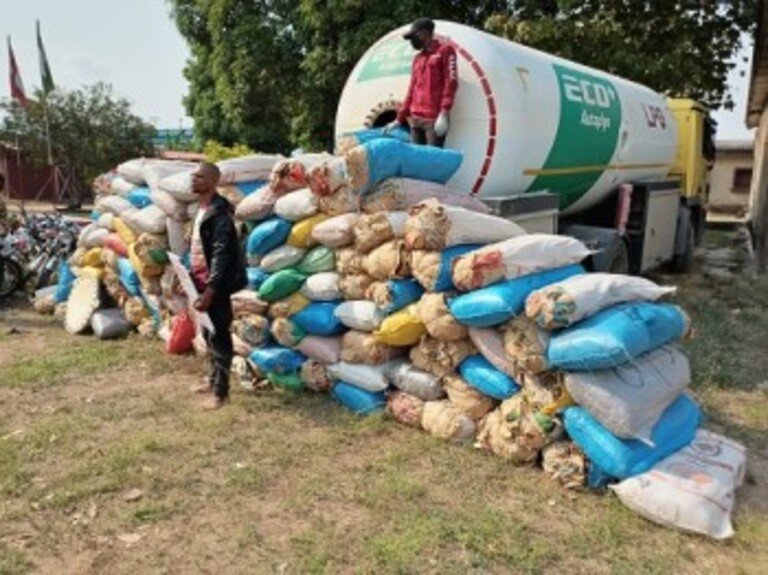 The founder and general overseer of the Seraphic and Sabbath Assembly in Lagos, High Priest Nnodu Azuka Kenrick, as well as Udezuka Udoka, a student at the Emmanuel College of Theology in Samanta, Ibadan, and Oyoyo Mary Obasi, their freight agent, have all been detained by NDLEA agents.
They were detained for allegedly trying to send palm oil kegs containing methamphetamine and skunk to Dubai, United Arab Emirates, through the NAHCO export shed at the Murtala Muhammed International Airport, MMIA, Ikeja Lagos.
Femi Babafemi, the director of media and advocacy at the NDLEA headquarters, revealed this in a statement on Sunday.
Babafemi said High Priest Nnodu was arrested on Saturday 11th February 2023 at his Seraphic and Sabbath Assembly church located at No 1, Sabbath Close, Ijesha area of Lagos following the arrest of two suspects: Oyoyo Mary Obasi and the theology student, Udezuka Udoka on Thursday 9th February at the Lagos airport in connection with the seizure of 283 parcels of skunk weighing 14.90 kilograms and 204 grams of methamphetamine concealed in four 25-liter kegs of palm oil for export to Dubai.
The NDLEA spokesman said in her statement, Mary indicted the General Overseer of her new-found church, Nnodu, and his son, Chisom Obi, who is now at large as the persons that gave her the consignments for export after being compelled to take an oath of secrecy as well as a sacrifice of chicken in the church while High Priest Nnodu prayed for her for the success of the transaction.
Babafemi said, "Spilling the beans on how she was recruited by her church's GO, Mary said the clergyman and his son used threats to compel her to take the job after they knew she had known their secrets, adding that High Priest Nnodu was always referring to the illicit drugs as Ice and Bible, (Street names for Methamphetamine and Cannabis) in their telephone text message chats.
The theology student, Udezuka was introduced to Mary to assist her because she was new in the illicit business.
Udezuka said he was paid N2 million for his role and had to do it because he needed the money for his education.
"Another attempt to send a consignment of skunk and tramadol 225mg to the UAE by a Dubai-returnee, Nnamani Monday Innocent was also frustrated following his arrest at Trade Fair complex in Ojo area of Lagos, where he had gone in the company of his friend Nwanana Emmanuel Ikechukwu with the cargo to a freight company to process the consignment for export on Tuesday 7th February.
"In the same vein, NDLEA operatives attached to the SAHCO export shed of the Lagos airport same day intercepted a cargo going to London, United Kingdom.
In the consignment containing food items packed in a carton, the four walls of the carton were used to conceal 1.10 kilograms of methamphetamine while the freight agent, Agholor Emmanuel, who presented the cargo for export was immediately arrested.
"Meanwhile, NDLEA operatives on Tuesday 7th Feb intercepted a consignment of 1,340 kilograms of cannabis sativa coming from Ogbese, Ondo state in a liquified natural gas truck to Okurikang Okoyong in Odukpani LGA, Cross River State.
Following credible intelligence, the movement was monitored for three weeks and upon arrival, 130 bags of cannabis weighing 1.430 tons were recovered from the LNG truck and 13 motorcycles were hired by the cartel to convey the consignment deep into the forest.
"In Kano, four suspects: Ado Shuaibu; Yahaya Shuaibu; Mamman Sani, and Umar Musa Yakubu were arrested in connection with the seizure of 229 blocks of skunk weighing 131.1kgs.
While Umar was arrested on Tuesday 7th Feb at Tumfafi village, Kano, the trio of Ado, Yahaya, and Mamman was nabbed on Saturday 11th Feb at Garin Balarabe, Maigatari, Jigawa state in a follow-up operation. Another suspect, Aisha Muhammad was arrested in Koki area of Kano with 17kgs cannabis.
"No fewer than four members of a syndicate using dispatch motorcycles to distribute illicit drugs in the Lekki area of Lagos were arrested on Sunday 5th Feb. They include Tijani Oladapo Hakeem; Eric Maku; Ahmed Jubril Olamide and Adobi Fortune Chris. At the time of their arrest, 1.88kgs of Loud and assorted paraphernalia were recovered from them.
"While 79.1kgs skunk was seized during a raid in Patey area of Lagos Island on Tuesday 7th Feb by NDLEA operatives, a total of 2,370.06 kilograms of cannabis and two boats seized at a jetty in Lagos by men of Civil Defence Corps were handed over to the Lagos command of the Agency.
"In his reaction to the arrests and seizures of the past week, Chairman/Chief Executive Officer of NDLEA, Brig. Gen. Mohamed Buba Marwa (Retd) commended the officers, men and women of the MMIA, Cross River, Kano, and Lagos commands for their commitment and professionalism towards ridding Nigeria of the menace of illicit drugs.
He said the Agency will continue to target anyone or group involved in the criminal trade without fear or favour while urging all NDLEA officers across the country to remain unrelenting in the pursuit of the corporate goal."