NDLEA intercepts 1,430kgs of cannabis en route to Cross River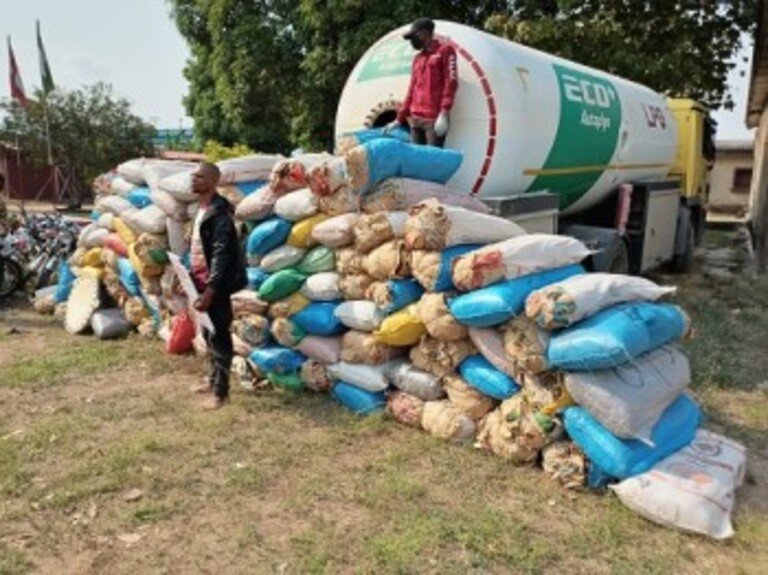 According to the National Drug Law Enforcement Agency (NDLEA), a shipment of 1,340 kilograms of cannabis sativa was intercepted on its way from Ogbese in Ondo state to Odukpani in Cross River.
Mr. Femi Babafemi, NDLEA's Director of Media and Advocacy, made the announcement on Sunday in an Abuja statement.
He stated that the items were loaded into a truck belonging to the Liquified Natural Gas (LNG) and were on their way to Okurikang Okoyong in Cross River's Odukpani Local Government Area.
According to Babafemi, the movement was monitored for three weeks after credible intelligence was received, and 130 bags of cannabis were seized upon arrival.
The seized drugs weighed 1.430 tons and were recovered from the LNG truck and 13 motorcycles which were hired by the cartel to convey the consignment deep into the Odukpani forest, were impounded.
Babafemi also said that in Kano, four suspects: Ado Shuaibu; Yahaya Shuaibu; Mamman Sani, and Umar Musa Yakubu were arrested in connection with 229 blocks of skunk weighing 131.1kgs.
He said that Musa was arrested on Tuesday, Feb. 7, at Tumfafi village, Kano, while Ado, Yahaya, and Mamman were nabbed on Saturday, Feb. 11, at Garin Balarabe, Maigatari, Jigawa state.
"Another suspect, Aisha Muhammad, was arrested in the Koki area of Kano with 17kgs cannabis," he said.
According to him, no fewer than four members of a syndicate using dispatch motorcycles to distribute illicit drugs in the Lekki area of Lagos were arrested on Sunday, Feb. 5.
"They include Tijani Hakeem; Eric Maku; Ahmed Jubril and Adobi Chris.
"At the time of their arrest, 1.88kgs of Loud and assorted paraphernalia were recovered from them," he said.
Babafemi quoted the NDLEA Chairman, Retired, Brig.-Gen. Buba Marwa, as commending the officers, men, and women for their commitment and professionalism toward ridding Nigeria of the menace of illicit drugs.
Marwa said the agency would continue to target anyone or group involved in the criminal trade without fear or favour.
He urged all NDLEA officers across the country to remain unrelenting in the pursuit of the corporate goal.