Hunters find thousands of uncollected PVCs in Anambra forest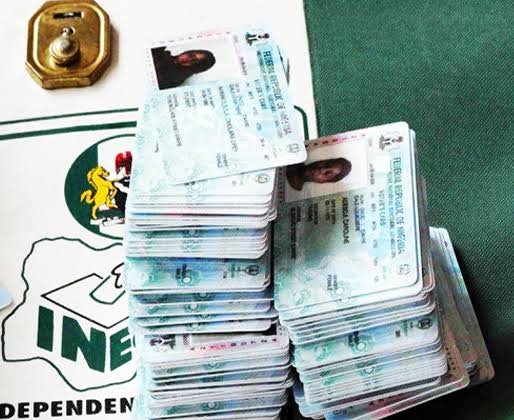 Roughly three days before the general elections, a bag allegedly found in a forest in Nnewi, Anambra State, contained thousands of Permanent Voters' Cards (PVCs) issued by the Independent National Electoral Commission (INEC).
According to reports, the cards were discovered by hunters in Akamili, a neighborhood in the industrial town, who later brought them to the Authority FM radio station's offices.
The PVCs were exhibited on the station's floor in a viral video shot at the station's Nnewi facility, with the two hunters standing next to them.
The majority of the cards, according to a female radio station employee who provided a brief commentary on the video, belonged to residents of Nnewi South Local Government District.
She urged those yet to get their PVCs to visit the station to confirm if they could find theirs.
Another staff of the FM station Ikenna confirmed receipt of the PVCs, adding that they had been taken to the Obi of Umudim community.
A station manager of Authority FM, Charles Ede, when contacted said he was off duty when the cards were brought, adding that his staff members have reported to him about the incident.
"I was off duty when the incident happened, but one of my staff members received the hunters when they came. I will send you his number," he said.
Anambra INEC Public Relations Officer, Dr Ikechukwu Agu, could not be reached for reactions while Police spokesperson, Tochukwu Ikenga said the command was constrained to make comments on the report as it has not received complaints from concerned authority.
He said: "The Command has not received any such complaint from the concerned authority, following the emergence of a video claiming that a hunter found some PVCs in a forest at Nnewi.
"Given the above, the Commissioner of Police, Echeng Echeng has ordered investigations into the video to unravel the circumstances surrounding the incident and possibly arrest the suspects behind the act.
"Therefore, the command is constrained to make further comments and any development in this regard shall be communicated."