Douye Diri: Good To Go Again! by Kola Oredipe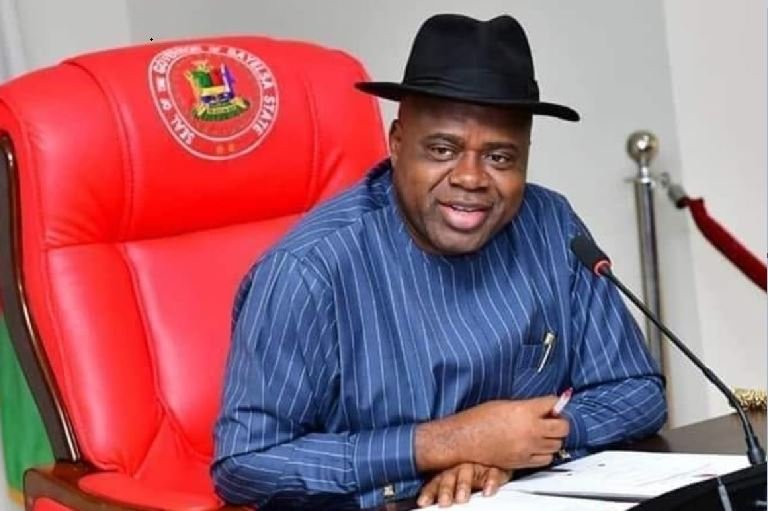 By Kola Oredipe
Governor Douye Diri belongs to the class of achievers.
Senator Diri, current Governor of Bayelsa State is calm, humble, focused and goal oriented.
The miracle governor is a child of grace, born in the coastal community of Sampou in Kolokuma/Opokuma Local Government Area of Bayelsa State.
Quintessential, smart, and God-fearing, Douye Diri shares his interesting childhood under the tutelage of his disciplinarian father, a Primary School teacher who later became a Headteacher. Indeed, looking back, those training and discipline has shaped the life of the Governor.
"Growing up with my siblings, my father was so strict and never spared the rod as directed in the Holy Book", Governor Diri always tell this story.
In less than three years in office, the Prosperity Administration he leads has surpassed expectations of many, particularly those who never gave him a chance.
Appreciating the miraculous way he came to power in 2020, Governor Diri, set out from the day of inauguration to preach the message of love, peace, unity and reconciliation across the length and breath of Bayelsa State.
Today, by this singular act, he has become the rallying point to all Ijaws irrespective of political affiliations. He endeared himself more to Bayelsans when he said, "I am committed to Bayelsa project. First, we are all Bayelsans before these political parties came. Let's put the interest of the State beyond our personal interests."
With his clear and open heart, many in opposition parties have joined him in the PDP to support the government and work for his re-election in a move to ensure continuity and consolidation of various developmental agenda.
Governor Diri has etched his name in the history book with his deep interest in the welfare of the public servants; both in service and retirees.
His kind effort has received commendation Daily, they pray and show appreciation for his policy consistency that has engendered regular and prompt payment of salaries since February 2020 when he became Governor. He set aside N200 million monthly to clear outstanding pensions and gratuities. He has shown so much commitment to the welfare of the public service. The recently signed Contributory Pensions Scheme Law is a sweet tonic to further motivate the service. No wonder many civil servants are craving for his re-election.
Different youth and women empowerment programmes are ongoing under this Prosperity Government to empower small and medium scale business owners. The total sum for disbursement to business owners across the 105 wards has just been increased from N50 million to N100 million Naira to be able it reach more people beyond the current number of 210 persons monthly.
Cultivating the governance culture of prudence and accountability, the governor embraced the policy of continuity that makes him release funds or re-award inherited projects or some uncompleted under the previous administrations. A great decision!
And through this, a number of such projects had been completed and inaugurated for the good use of the people. Within his first year in office, the Prosperity Government completed the Kaiama Referral Hospital in Kolokuma/Opokuma LGA and the Imiringi bridge in Ogbia LGA.
During the first year anniversary, Governor Diri re-awarded some inherited projects and embarked on new ones. Today, such projects as brand new Igbedi road has been completed, and some sections of the Igbogene-AIT/Elebele outer ring road completed.
In fact, during the second anniversary, projects like the Nembe Unity bridge, Elebele bridge, New Yenagoa City Road, brand new Media Complex, and a number of new secondary school classroom blocks were inaugurated.
Just a few days ago, Julius Berger delivered the dualisation of Isaac Boro Expressway which has been under construction for some time.
The Prosperity Government has not left anyone in doubt as to its interest to open up the riverine communities, hence, the massive funding of the three ongoing Senatorial Roads. Great to cheer that the Sagbama-Ekeremor road linking over ten riverine communities in Bayelsa West will be ready soon as asphalting has almost reached Ekeremor main town.
In Bayelsa Central, several milestones have been accomplished on the Yenagoa-Oporoma-Ukubie road with the successful completion of Aguobiri bridge and asphalting up to ancient town of Angiama. The Angiama-Oporoma bridge across River Nun is progressing. This is historic to the people of Southern Ijaw Local Government Area who have waited for this road for almost 60 years.
In Bayelsa East, this humane and considerate governor took the bold decision to initiate and flag off the historic Nembe-Brass road. The people are in high spirit and have whole heartedly welcome the project expected to open up the treasures in the sea for the "Blue Economy."
These are projects hitherto considered as suicidal under previous administrations in terms of cost and duration. But Gov. Diri has bell the cat where others can not thread and the promise land to the people of the West, Central and East Senatorial districts of the State is near.
The prosperity led administration has also supported members of the State House of Assembly to initiate several community development projects in many communities and galvanized local Government administrations to make people in local areas have a feel of the dividened of democracy. It has never been this good in the history of constituency projects and local Government administrations.
Truly, a lot is happening and very fast under the current administration.
Beyond physical infrastructure, Bayelsa State has achieved so much in the area of sports development. A truly new destination for sports because of the stellar performance by its athletes in different events and at various competitions within Nigeria and abroad.
Governor Diri is the chief motivator and a massive source of inspiration to the athletes where he handsomely rewards successes in trophies and medals. The Bayelsa Hall of Fame is fast growing with victorious exploits, Medals and Trophies!
Both state-owned male and female football clubs, Bayelsa United and Bayelsa Queens dominated the Nigerian football arena for two straight seasons and within the period, both became Champions of Federation Cup(FA), first time in history when two teams from a State will win both male and female versions of the cup.
Top Nigerian female wrestler and Olympic silver medalist, Blessing Oborududu, and reigning Nigerian 100 metres women champion, Tima Godbless, excelled in their various sporting careers as worthy ambassadors of Bayelsa State.
Within three years in office, the motivation in sports has seen Bayelsa become second best sporting state in Nigeria as Team Bayelsa contingent to the last National Sports Festival in Asaba, Delta State came second behind the host. This result marked a statement of intent to use sports to positively engage more youths.
This is certainly a new Bayelsa State under Senator Diri and the trajectory must continue in the journey to building a prosperous State.
Under the present government, the people have become more united while crimes and criminalities have reduced to the bearest minimum through the proactive security approach that has engendered a peaceful environment. Looking at all indices, today, Bayelsa remains one of the most secured and safest State in the country.
A unifier, courageous and true leader, the governor has shown practical leadership with deep interest for a brighter future for the State.
He has never exhibited an attribute of a desperate politician who would abandon governance for selfish ends.
Douye Diri is enigmatic, quintessential and populist in discipline, humility and temperament. He remains a leader with empathy committed to ensuring the prosperity of the young people.
Diri's style of leadership finds its place in one of the quotes of British-born American author, Simon Sinek, when he said "Leadership is not about the next election, it's about the next generation."
From West to East and Central Senatorial District, the people are unanimous in agreement that the ship of state is sailing on a path of growth since 2020 and so, the chief pilot must be encouraged to ensure continuity and consolidation.
There is no mistaken the fact that, to the current Prosperity Government, it's a clear case of "One Good Turn Deserves Another." Simply, Douye Diri, is good to go again!
Kola Oredipe, is Director/Coordinator, New Media to Governor Douye Diri