Arsenal back on top with comeback win at Villa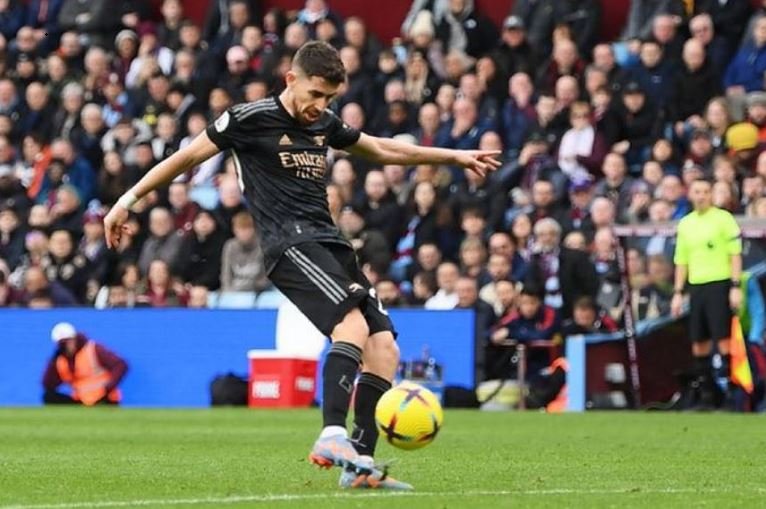 Late goals from Gabriel Martinelli and an own goal from Aston Villa goalkeeper Emiliano Martinez fired Arsenal back to the top of the Premier League.
The Gunners were a goal down in five minutes after Matty Cash found Ollie Watkins who skipped past William Saliba to fire past Aaron Ramsdale in goal.
Arsenal hit back through Bukayo Saka after a lackluster header from Villa defender Tyrone Mings to draw the goal level but it was Villa who had the final word of the first half after Philippe Coutinho put Unai Emery's side in the lead.
Emery, a former Arsenal manager who was facing the side since leaving in 2019 looked like he was going to dent the Gunners hopes of returning top of the league but a strike from Olexandr Zinchenko after a well worked corner kick restored parity.
Jorginho's late strike which went off Martinez ensured Arsenal will return to north London with all three points but the icing on the cake was provided when second half substitutes Pablo Viera and Martinelli combined from a counter attack to help Arsenal win 4-2.
Gunners show resolve
There had been so much talk about Arsenal's title chances after losing to Manchester City, despite the fact they went into this match level on points with a game in hand.
For long periods they looked like they may come up short again.
But they proved their mental strength with those stoppage-time goals, as well as the fact they twice came from behind.
There was no panic as they probed and pushed late on, even when Nketiah and Odegaard missed chances and Villa were going for it themselves.
Winning titles is about overcoming adversity under pressure, and that is exactly what Arsenal did today.
"We can take two big lessons," manager Mikel Arteta told BBC Sport. "In the first half we did the simple things wrong and in the second half we raised our individual level and did the simple things right.
"We totally merited the win."
Emery 'embarrassed' by Martinez
Tactically, Emery's plan was clear and it very nearly worked.
Villa started the better and scored early. Even as Arsenal settled after Saka's goal, Villa maintained their threat through Watkins, Coutinho and Emi Buendia.
Having the lead at the break allowed them to stay compact and absorb Arsenal pressure and, although they conceded again, Watkins continued to cause problems.
Bringing Leon Bailey on could have paid off, but Arsenal found a way through to condemn Emery to defeat against his former club.
While Martinez was unfortunate with his own goal, Villa boss Emery was furious at his keeper for going up for the corner from which Arsenal broke away to add their fourth.
"Today I am very, very disappointed," said Emery. "I am embarrassed about the last goal. I have never told my keeper to go forward. It's not the spirit.
"We have to keep our mind clear and be smart. Today he decided it was his decision. He knows now."
Villa sit in 11th in the table after a third straight defeat.