Fuel scarcity, naira redesign plot to scuttle elections – Tinubu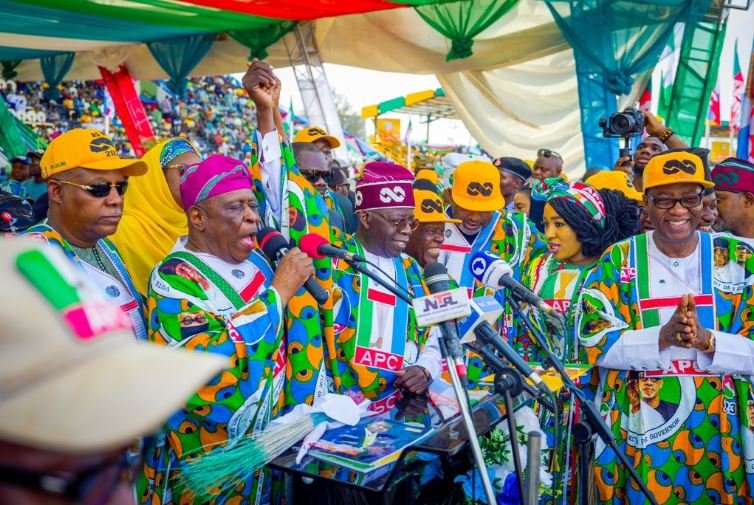 The APC presidential candidate, Bola Tinubu, on Wednesday claimed there are plans to scuttle the 2023 general elections through fuel scarcity and naira redesign.
Tinubu who spoke in Abeokuta, Ogun State capital during the APC presidential campaign said he would end fuel scarcity in Nigeria.
"They don't want this election to hold. They want to scuttle it. Will you allow them?", Tinubu asked the teeming supporters at the MKO Abiola stadium, Kuto, Abeokuta.
He said Nigerians are ready to defy the fuel scarcity and trek to their polling units to exercise their civic right.
He then described the February 2023 polls as a revolution. "They have started coming up with the issue of 'no fuel'. Don't worry, if there is no fuel, we will trek to cast the vote.
"If you like increase price of fuel, hide the fuel or change the ink on the naira notes, we will win the election," he said.
While stating that he would put an end to the fuel crisis, he described the upcoming election as a revolution, urging the party supporters and indigenes of Ogun State to come out in their large numbers, the same way they did for the rally, on February 25 to vote APC.
Speaking to the youth, the APC candidate all promised to ensure that they enjoy quality education not truncated by strikes, while also making jobs available for them once out of school.
He said, "I guarantee you one thing, there will be student loans, nobody will drop out of university because of school fees; nobody will have to repeat one class for eight years and not graduate, we will make a four-year course four years course.
"A Tinubu administration will create over 1 million jobs in ICT in the next 24 months. The fine and skilled graduates of the Ogun Tech Hub will be able to find work as they continue to contribute towards our overall economic well-being."
"My industrial policy will carry you to the finish line. My plan is to deploy all available measures, from tax credits and youth employment incentives to tariffs to affordable loans and investment so that your industrial base is strengthened, broadened and widened.
"This will produce more wealth and valuable goods, improving the living standards of all Nigerians. It will also spur such job creation in Ogun that everyone looking for work will be able to find it. We will seek to cut youth unemployment nationwide by a third.
"Here, in industrially active Ogun, the decline in the jobless rate will be even more than that. We shall invest in infrastructure in such a manner that all aspects of your daily lives will be touched. Roads and public transportation will be augmented, reducing traffic congestion and allowing you to go from home to work or to the market faster, cheaper and safer."