Lagos Taskforce arrests 48 miscreants, raids criminal hideouts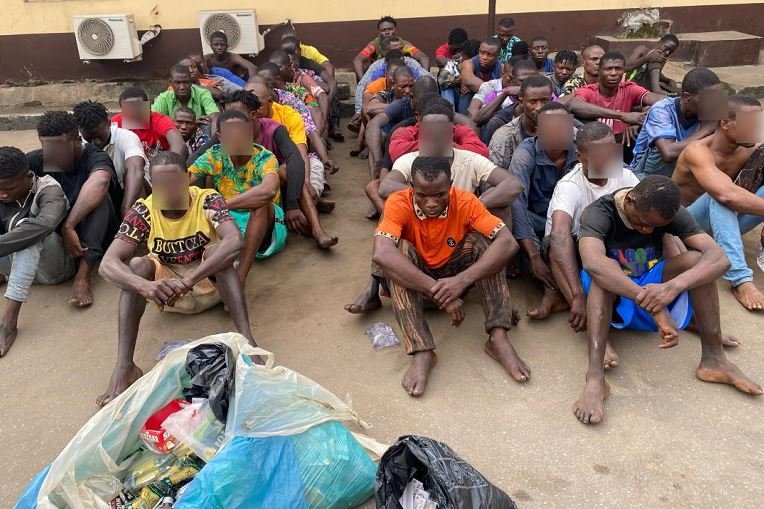 The Lagos State Taskforce raided Oshodi, Lagos-Abeokuta Road, and Ikorodu Road where recalcitrant motorcycle riders commonly known as okada riders have been operating.
The raid led by Lagos Taskforce chairman, CSP Shola Jejeloye was carried out during the closing hours on Thursday and resulted in the arrest of erring riders while 37 bikes were impounded.
"It is disheartening seeing these recalcitrant riders operating their bikes commercially, endangering the lives of their passengers and the pedestrians on the state highways despite the ban still in place," Jejeloye said.
"We have sent out a series of warnings through our official channels but it fell on deaf ears of some of them, thus the need to carry out this enforcement exercise."
Adding that "The ban on commercial operation of okada on restricted routes and all the states highways is still very much in place, therefore, no one who is caught still operating will be spared."
Jejeloye said the Lagos Taskforce will continue to enforce the law. "I am sounding this note of warning to every okada operator and their passengers who think they are sacred cows that cannot be touched. It will no longer be business as usual. Anyone caught operating commercially along the restricted corridors will face the court.
The Lagos Taskforce chairman disclosed that compliance with the state laws has to start with good men and women who have the interest of the state at heart.
He further said that anyone who is not disciplined cannot discipline others.
Other recalcitrant okada operators have been warned to desist from such acts or face the music.
In a related development, the Lagos State Taskforce carried out an extensive raid of suspected hoodlums along Oshodi Bridge, Mosafejo, and Army Arena axis where 48 suspects were apprehended.
The raid in the early hours of Friday lasted for over five hours to ensure a complete mop of areas known for criminal habitation and activities.
The Lagos Taskforce chairman of the agency stated that raids along these black spots will be continuous to stamp out hooliganism and criminality from the State.
"Our feedback from members of the public helps us streamline our operational activities to areas that affect them the most. Raids along Oshodi will be continuous and frequent until criminal elements take their trade elsewhere.
All the arrested suspects will be charged in court.