Hoodlums allegedly stoned Atiku's convoy in Ogun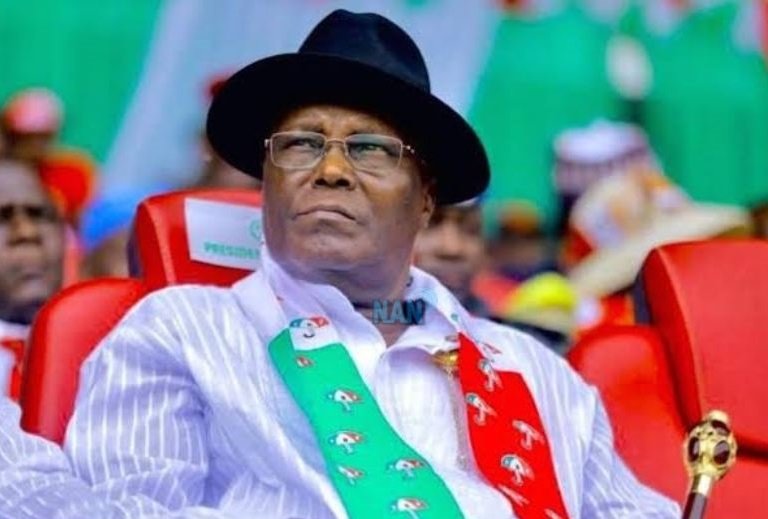 Fresh facts have emerged on the anti-Atiku sentiments expressed in Abeokuta, the Ogun State capital last Wednesday when the presidential candidate of the Peoples Democratic Party (PDP) flagged off its campaign in Ake area of the metropolis.
The presidential rally held at the Ake Palace ground commenced around 9 am but Atiku kept the party supporters waiting under the blazing sun until 3.30 pm when he addressed them briefly and left after greeting the Alake and Paramount ruler of Egbaland, Oba Adedotun Gbadebo.
But on his way out and about 150 meters away from the venue, suspected hoodlums petted his suspected convoy with stones, including denting the body of the vehicle and shattering a side mirror of one of the security vehicles.
Gunshots were also heard as the security operatives tried to clear the way for safe passage while hoodlums stepped up the stones attack on the departing convoy.
A trending video showed that the incident occurred around the St. Peters Cathedral area of Ake.
Many were wondering if the stoning had anything to do with deep grievances arising from the crisis–ridden primaries of Ogun State PDP which threw up parallel candidates, especially governorship candidates. The aggrieved governorship aspirants and their supporters shunned the rally.
A source close to Otunba Jimi Lawal, one of the aggrieved governorship aspirants challenging Hon Ladi Adebutu over the party's ticket, told The Nation the camp knew nothing about the stoning of Atiku's convoy.
He said the organizers of the Ake ralley should know and tell the world what transpired.
But reacting, the Media Director, Ladi Adebutu & Akinlade Campaign Organisation, Mr. Afolabi Orekoya, said there was no such incident as the stoning of Atiku's convoy, dismissing a video depicting the alleged incident as "false and fabrication."
"It was a fabrication. How can you prove that it was Atiku's convoy that was attacked? Check the whole of Ake area whether you will see a glass house structure where the recorder of the video claimed he hid to record the incident," Orekoya said.
However, unofficial sources told Newsmen that some youths expecting to get money from the PDP presidential candidate and organizers of the rally were disappointed nothing was given to them.
They reportedly withdrew from the venue angrily, ambushed the convoy a few meters away from the targets, and attacked with stones when they emerged from the Ake Palace ground.
When Newsmen contacted Ogun Police spokesman Abimbola Oyeyemi for clarification, he said he was in a meeting, promising to get back.