NOI Poll: Undecided, refused voters will determine 2023 election – Bisuga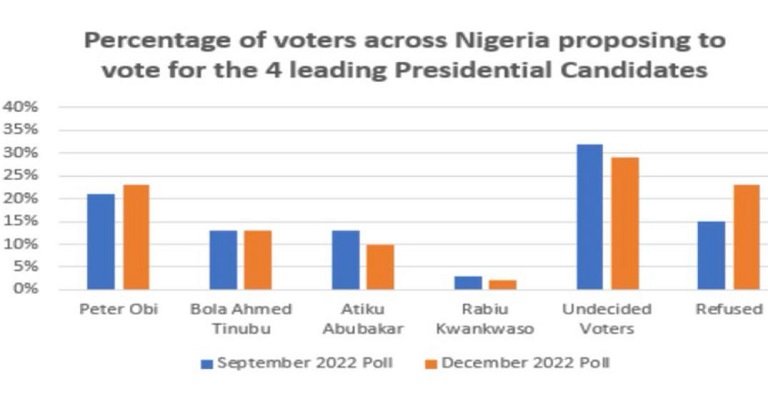 Nigerian journalist, Seun Bisuga, says undecided and refused voters will determine the outcome of the 2023 election.
Bisuga on Thursday was reacting to a poll result released by ANAP Foundation but conducted by NOI Polls.
According to the poll, Peter Obi of the Labour Party garnered 23 percent and led the percentage of voters across Nigeria who have made up their minds on who they will vote for in the presidential election.
We commissioned a 2nd nationwide poll in Dec for the 2023 general elections conducted by @NOIPolls as a follow up to the 1st Poll from Sept.

The results show @PeterObi of Labour Party in the lead with 23%. APC's @officialABAT came 2nd with 13%, whilst @atiku came 3rd with 10%. pic.twitter.com/bb0Pm6Rwqj

— Anap Foundation (@anapfoundation) December 21, 2022
Bola Tinubu of the ruling All Progressives Congress (APC) placed second with 13 percent of the votes while former Vice-President, Atiku Abubakar placed third with 10 percent.
The poll question was: Suppose the presidential election is being conducted today, who are you likely to vote for? and the result was released on Channels TV on Wednesday.
But Bisuga argues that the undecided and refused voters form the core of what will eventually decide the presidential election.
According to ANAP, undecided voters and those who refused to reveal their preferred candidate accounted for 29% and 23% respectively.
"With the prevalence of vote buying in Nigeria, the undecided and refused voters hold the key to who will emerge in 2023. These are people who have valid PVCs and could be swayed by money or food, they might not care much for ideals and principles, he said.
Bisuga added that it is well documented that Tinubu and Abubakar have the war chest to go head to head. "Most of Obi's voters are urban and suburban voters but we know that it is the rural voters that determine most elections in Nigeria and these are the people who can sell their votes for N2000 ($6).
"Obi's supporters are also dominant in the online space and will participate more in polls than the voters of the two leading contenders, so I will tell Labour Party supporters and voters to hold their celebrations because the dynamics are different.
He reckoned that the vote did not take into cognizance the core north. "The majority of votes come from the north and we know that these voters do not participate in polls, that is not to say that the poll is wrong," he said.
He however noted that previous polls by ANAP/NOI have been accurate but this one is a little tricky. "The handwriting is on the wall, the increasing attacks on INEC facilities are another problem now. If these attacks are checked, many voters will have their PVCs but no polling units to vote.
"The fact that you want to vote in Nigeria does not mean that you will vote. INEC has raised alarm about the elections and as I speak some of its facilities are been attacked, so there are many factors to consider.
Bisuga urged Nigerians to get their PVCs and exercise their civil right. "I hope the security agencies can do all they can to ensure that everyone will PVC votes because it is only then that we can say the people have voted their choice."