Buhari receives accolade for degrading terrorism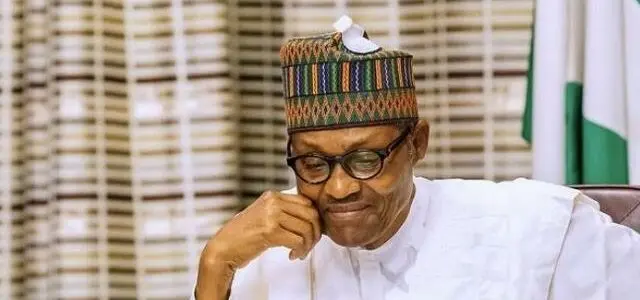 The Corps Commandant General, Neighbourhood Enlightenment and Safety Organisation (NESO), Dr Sani Aliyu, has commended President Muhamadu Buhari for his achievements in degrading terrorism and banditry in Nigeria.
Aliyu gave the commendation in Abuja at the 2022 Security Excellence Awards and Investiture of new Board of Fellows of the Institute of Security and Strategic Studies (ISSS).
In his paper titled "Contentious State of Nigeria Insecurity and its Malign to National Security," Alliyu said Buhari recorded considerable success in combating terrorism which remained a global challenge.
"I must start by congratulating President Buhari for his achievements in degrading terrorism from all time high of 9.12 to in 2015 to 8.2 in 2022.
"This means, Nigeria from 3rd most terrorized country in the world to current 6th position in 2022 and death caused by terrorists attacks dropped by 92 per cent.
"As well as we are also seeing the decline of banditry activities in the country.
"Although, there is still much needed to be done in this regard, therefore, I will also say kudos to all the security chiefs and the affected state governors for their robust collaboration in bringing to fore their various experiences and strategies which anchored the relative peace and security in the country today."
Aliyu, however, urged President Buhari to come up with permanent and sustainable solution to enable security agencies synergize to combat terrorism without any constitutional encumbrance.
He also urged president Buhari to adopt NESO to become government agency in tackling terrorism the way former President Olusegun Obasanjo adopted Nigeria Security and Civil Defense Corps.
Aliyu said this would consolidate Buhari's gains in the war against terrorism and help guard jealously his great achievements in degrading terrorism.
He advised the media to always report security breaches with decorum without embolden the perpetrators.
"It is universally acknowledged that security is everybody's business and so 'am using this platform, calling on the Institute of Security and Strategic Studies to stretch its outreach to the Nigerian media.
"America has the highest crime rate (11,877,218 per annum) in the world but manages the situation through the media and that still makes the country attractive to all, projecting proactive security network more and demeaning security breaches simple and sinker."
Also in his remarks retired Director, Rural Electrification Agency, Chucks Josiah, advocated that security education should be well propagated in Nigeria.
Josiah also advised all new fellows to be active in the activities of the institute.
Highlights of the event was the induction of six distinguished Nigerians as Fellows of the Institute.
The new ISSS Fellows are Alhaji Alliyu Abubakar, Director General, National Identity Management Commission, Darlington Nwokocha, Chairman, House of Representatives Committee on Insurance Matters and Airport Manager, Nnamdi Azikwe International Airport, Kabir Mohammed.