Only blue tick users to vote in Twitter polls on policy – Musk
Elon Musk has said Twitter will only allow accounts with a blue tick to vote on changes to policy after a majority of users voted for him to quit.
Musk launched a Twitter poll asking if he should step down as chief executive – 57.5% of users voted "yes".
Since then, he has not commented directly on the result of the poll.
But he has said that Twitter will alter its rules so that only people who pay for a subscription can vote on company policy.
One user claimed that so-called bots appeared to have voted heavily in the poll about Musk's role at the firm. Musk said he found the claim "interesting".
The billionaire had said when he ran the poll that he would abide by the result. If he does quit as chief executive, he will remain as Twitter's owner.
Bruce Daisley, former vice president of Twitter, compared any potential change to that of a football manager. "The chairman still remains and Elon Musk is going to be that ever-present voice in the back of the room," he told the BBC's Today programme.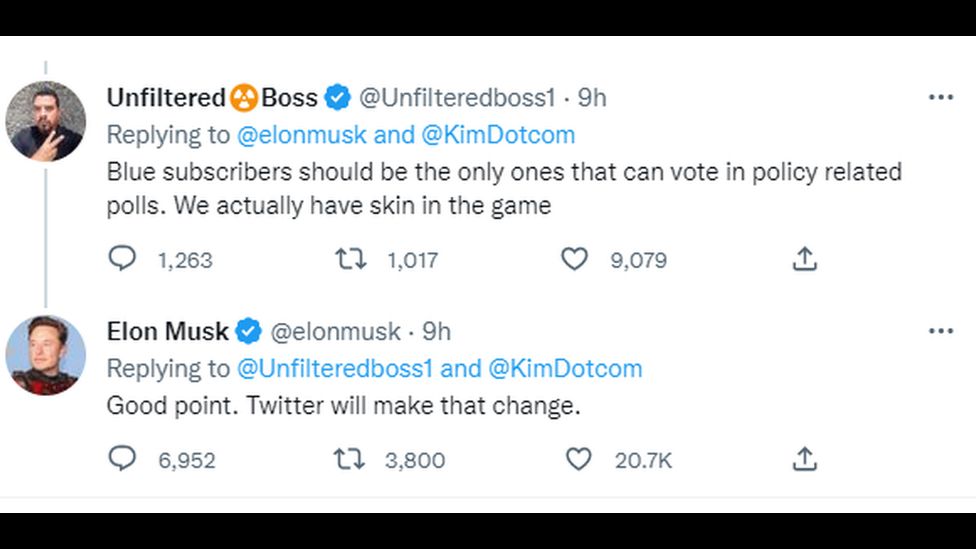 In response to a tweet saying Twitter Blue subscribers "should be the only ones that can vote in policy related polls. We actually have skin in the game", Musk said: "Good point, Twitter will make that change".
Twitter's paid-for verification feature was rolled out for a second time last week after its launch was paused. The service costs $8 per month, or $11 for people using the Twitter app on Apple devices, and gives subscribers a "blue tick".
Previously a blue tick was used as verification tool for high-profile accounts as a badge of authenticity and was free.
On Monday, Musk held a poll on his future as chief executive. More than 17.5 million users voted and the majority backed him stepping down.
While the poll was running he replied to one user suggesting there was no replacement chief executive lined up, saying: "No one wants the job who can actually keep Twitter alive. There is no successor."
The technology tycoon, who also runs electric car maker Tesla and space rocket firm Space X, has faced much criticism since taking over the site.
He has obeyed the results of his Twitter polls in the past and quoted the phrase "vox populi, vox dei", a Latin phrase which roughly means "the voice of the people is the voice of God".
Musk bought Twitter for $44bn (£36bn) in October after attempting to back out of the deal.
Since taking control, he has been criticised for his approach to content moderation, with some civil liberties groups accusing him of taking steps that will increase hate speech and misinformation.
On Friday, he was condemned by the United Nations and European Union over Twitter's decision to suspend some journalists who cover the social media firm. He has also fired about half of Twitter's staff.
Daisley said through Musk's activity, you could "get a hint" over what he was thinking through his replies to users. "He does seem to be quibbling with the vote," he added.
Musk has also been accused of neglecting his electric car company Tesla, which is where most of his wealth is. Tesla shares have lost more than 60% in value this year, with some saying his obsession with Twitter is destroying the brand.
Last week, Leo KoGuan, the third largest individual shareholder in Tesla, called for Musk to step down as the boss of the electric car maker.
"Elon abandoned Tesla and Tesla has no working CEO. Tesla needs and deserves to have [a] working full time CEO," he tweeted.