Messi misses penalty as Argentina beat Poland to reach last 16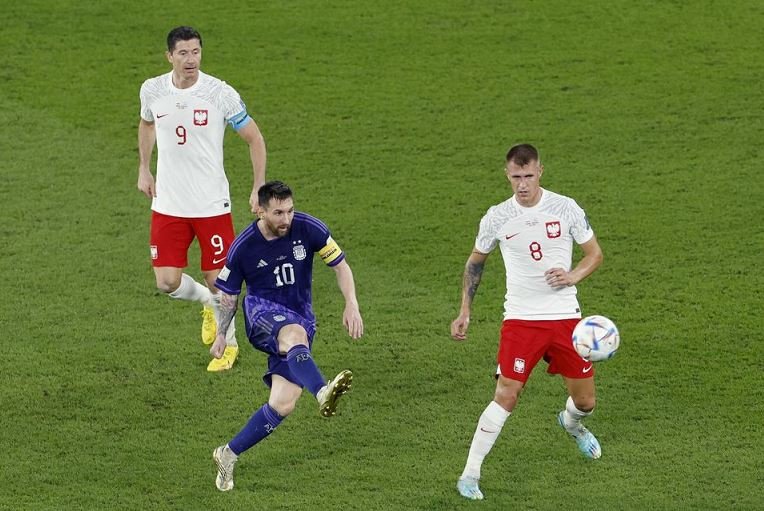 Lionel Messi's Argentina beat Poland 2-0 in their final World Cup Group C match at Stadium 974 in Doha on Wednesday to advance to the knockout stage where they will face Australia.
Argentina topped the standings on six points while Poland were awaiting the outcome of the other group game between Saudi Arabia and Mexico to see if they would come second and also qualify despite the loss.
Midfielder Alexis MacAllister put Argentina ahead straight after the break with a low first-time shot after a flowing passing move, while Julian Alvarez shot past Poland goalkeeper Wojciech Szczesny in the 67th minute to make it 2-0.
In the first half, Szczesny was Poland's hero as he made a diving stretch save to deny Messi a penalty, awarded after his outstretched hand made contact with the Argentine striker's face.
Impressive Argentina show class
Argentina's improvement continued as they produced their best performance of the World Cup to outclass a disappointing Poland.
The Argentines shook off the shock of that stunning loss to Saudi Arabia to settle their nerves with a Messi-inspired win against Mexico then stepped up to another level to confirm a last-16 game against Australia.
Messi's first-half penalty miss was a minor interruption on their path to victory as they held complete command of territory and possession against a passive Poland, especially given what was at stake.
Argentina keeper Emi Martinez did not have a moment of anxiety and once Mac Allister put them ahead the game was virtually over, Alvarez confirming it with a superb strike past the excellent Szczesny that hinted at his own rich potential.
Messi showed flashes of his mercurial best but this was a complete performance from Argentina who played with greater intensity and fire than they have so far.
They have taken their time to show why they are so highly regarded but produced plenty of evidence here to illustrate just how dangerous they will be in the knockout stage.
Passive Poland ride their luck
It was symbolic of this lacklustre Poland performance that their greatest show of passion all night came after the game had finished when they punched the air as news of Saudi Arabia's goal against Mexico that confirmed their place in the last 16 filtered down on to the pitch.
Poland's players revelled in the good tidings as they waved red and white flags on the pitch, barely able to believe they were through to face France.
They can consider themselves fortunate to be there after this poor performance in which they never troubled Argentina and the great striker Robert Lewandowski did not receive any service worthy of the name.
One exception to the mediocre fare from the rest of his colleagues was former Arsenal goalkeeper Szczesny, who was magnificent throughout, saving Messi's penalty and producing other stops in a faultless display.
Poland are through and enjoyed their celebration but they will have to step up several levels to trouble France.