Same Faith Ticket: Lawyers tell Fani-Kayode to apologise after volte face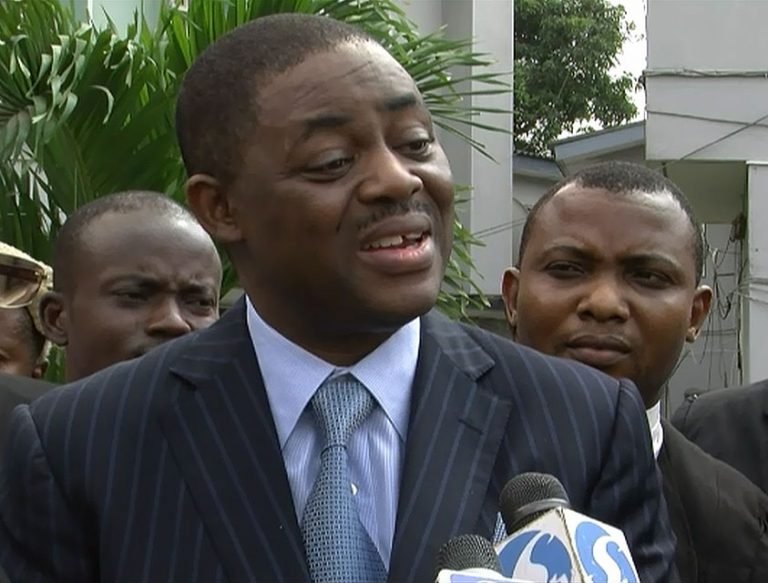 A group of legal practitioners under the auspices of the 'Progressive Lawyers for Osinbajo' have called on the director of new media of Tinubu/Shettima Presidential Campaign Council, Femi Fani-Kayode, to apologize to Nigerians for recanting on his advocacy against a Muslim-Muslim ticket because he was named a Director of the Tinubu-Shettima Presidential Campaign.
The call was contained in a statement issued by the group's publicity secretary, Barr. Tom Adoji, in Abuja on Monday referenced a recent newspaper article where Mr. Fani-Kayode in an article titled "Yemi Osinbajo, Bola Tinubu and Queen Elizabeth's Funeral", attempted to promote the APC's Muslim Muslim ticket, and curiously calling on the Vice President Yemi Osinbajo to support the ticket.
In the statement, the group expressed disappointment that those who believed in Fani-Kayode's strident crusade against Muslim-Muslim ticket in 2015 are now wondering what explains the change of belief.
"Fani-Kayode is now talking about Absalom, but what about him completely denying and betraying his own faith. Is that not a worse story of Judas?
The group recalled the former Minister's conduct and utterances, noting that, having opposed the same idea through several written and video messages in the past, Fani-Kayode's latest admiration for the same faith ticket is questionable and ridiculous.
The lawyers wondered why the former Minister who had openly criticized the same faith ticket in the past, was now soliciting Prof. Osinbajo's support for it.
The satement also described as misleading, attempts by Fani-Kayode to credit VP Osinbajo's political successes to presidential candidate of the APC, Asiwaju Bola Ahmed Tinubu, noting that "as against the uninformed thought of FFK, Prof. Yemi Osinbajo came for an enviable pedigree, his life records are opened to the public; they are not questionable, including having served as Special Adviser to the Attorney-General of the Federation in 1988."
The group, according to the statement, condemned Fani-Kayode's comments and asked him to retract his words or apologise to Nigerians.
"We don't now know which version of FFK to believe or which is the real or fake. This is what social duplicity means and the unstable public commentator called Fani-Kayode is the best expression of a political chameleon. We demand he apologises to Nigerians for his crooked manifestation of tomfoolery," the statement noted.
In the recent article Fani-Kayode likened contestations for the APC Presidential ticket at the Primaries to the story of Absalom, who "wished death, destruction, shame and disgrace to his father (King David), and entered into an open rebellion with him and attempted to steal his crown".
The group noted that Fani-Kayode has exposed his lack of integrity, betrayal of faith in his recent actions.
The statement said, Fani-Kayode has clearly eaten his words, having pointed out the disadvantages of same faith ticket, in many articles, a typical example being an Op-Ed published in the Premium Times in 2014 and titled, 'APC and the strange dream of Muslim/Muslim Ticket'.
"We have been saying all this quietly for a few months now but nothing has happened. No one seems to be listening and no one seems to care. Worst still, instead of reaching out and allaying our fears we are now being fed with subtle yet insulting and unacceptable rationalisations and justifications for what is essentially politically explosive and electorally suicidal nonsense.
"If there is no Christian in Nigeria that qualifies to be President or Vice President and that does not have the noble qualities of "integrity, capacity and competence" that were listed earlier, then they should tell us and we will know what to do. The whole thing is beginning to move in a certain direction and it stinks.
"An illicit and subterranean agenda seems to be unfolding and, instead of assuring us that such a thing can never happen or even be contemplated in today's Nigeria, they are telling us to live with it and that, all of a sudden, religion does not matter anymore."
"If it does not matter anymore then why not present a Christian/Christian ticket? If it does not matter anymore then why give the impression that you are interested in the Christian vote? If it does not matter anymore then why the resistance in some quarters against a Christian Presidential candidate for the party?", Fani-Kayode was quoted as saying.
In other posts, Fani-Kayode has said that, "this country belongs to both Muslims and Christians- we are all one and we must ensure that we do not hurt the feelings or the sensitivities of one another either advertently or inadvertently. As they say 'the road to hell is paved with good intentions."
In another post on Twitter, he said, "Worse is that one of those pres. aspirants from the South is toying with the idea of a Muslim/Muslim ticket! Can there be anything more reckless & dangerous than that? And neither should anyone from the SW,SS or NW be talking about being President or Vice President in 2023."
The statement said "this is a trait that FFK has prepared to fail in his assignment as Director in the Tinubu/Shettima Presidential Campaign Council. That article was in no form a special and well thought out project. It is simply to brew intraparty rancour that can destroy the chances of the party in the 2023 presidential election."