Lagos Taskforce arrests 33 miscreants, impounds 141 bikes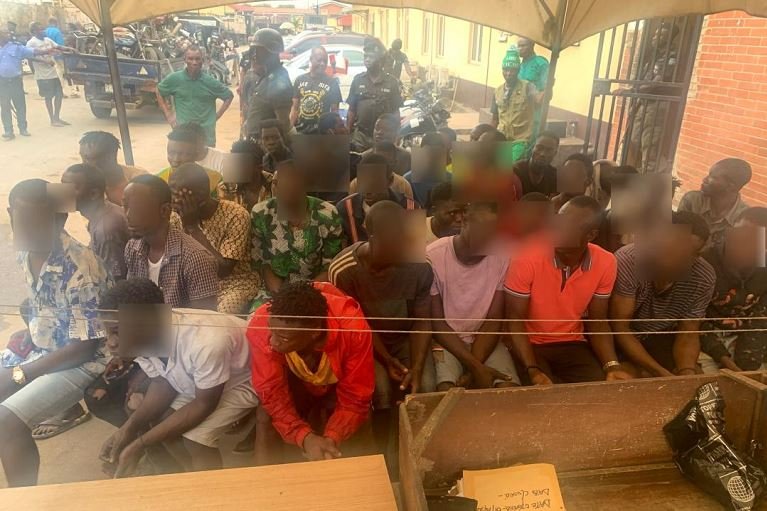 The Lagos State Taskforce carried out an intense raid of blackspots at Oshodi, Mafoluku, and, Airport Road where it has been reported that criminal elements use them as a hideout after carrying out their nefarious activities.
The raid which took place in the early hours of Sunday was led by the chairman of the agency, CSP Shola Jejeloye who pinpointed these spots following credible intelligence gathered by the agency.
Jejeloye disclosed that 33 miscreants were rounded up and taken down to the office where they would be questioned and properly identified before prosecution.
"We carry out raids like these regularly in order to rid the streets of criminal elements who make use of these dark spots as a safe haven. We have rounded up 33 suspects who will be profiled and if found to be of questionable character, will be charged to court accordingly"
Jejeloye further stated that these men of the underworld use these locations as a take off point to rob, pick pockets of unsuspecting pedestrians and sometimes intimidate them in order to dispossess them of their hard earned valuables.
"We are going to put an end to these acts by ensuring that these policing tactics are utilised every now and then to achieve adequate safety and security in line with the THEMES agenda of the state government"
In a similar development, the Lagos State Taskforce carried out a raid of recalcitrant okada operators at Amuwo Odofin where 114 bikes were seized for operating on restricted routes in the state.
The chairman of the agency described the activities of the okada riders as reckless and vowed to concentrate more on that axis to bring their activities to a halt.
"Okada riders in this part of Lagos take advantage of the massive road construction going on here to perpetrate their illegal activities but we wont condone it any longer."
Jejeloye sounded a note of warning to all elements involved in such vices and ensures them that the long arm of the law would soon catch up with them.
He assured Lagosians that activities of okada riders which had been brought down to a recogniseable minimum would not be allowed to resurface in a mega city like Lagos.