Nigerian sworn in as deputy premier in Canada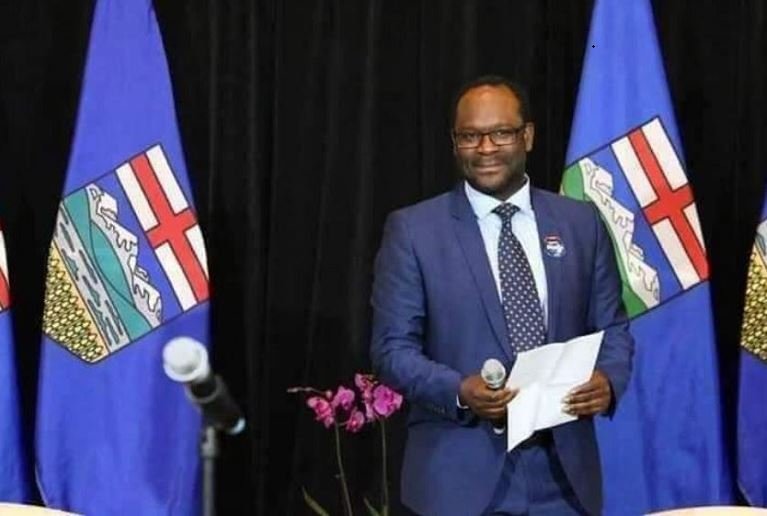 Kelechi Madu, a Nigerian Canadian, has been sworn in as deputy premier in the Province of Alberta in Canada.
Madu who was sworn in as Deputy Premier, was also assigned the portfolio of Minister of Skilled Trades and Professions.
He previously served as the Minister of Justice and Solicitor General and the Minister of Municipal Affairs.
Kelechi Madu, as an official of the Canadian Ministry of Justice, it would be recalled, was accused of meddling in a traffic offence committed by someone familiar to him by placing a call to the office.
Madu was thereafter directed to step aside while the Canadian authorities carry out investigation into the matter.
He was however exonerated of the accusation levelled against him, particularly of trying to pervert the cause of justice in the Province of Alberta, Canada.
The development saw Kelechi Madu transferred from the Ministry of Justice as Minister, to the Ministry of Labour and Immigration.
The Premier of Alberta, Jason Kenney, had while announcing the decision, said even though Madu was exonerated the panel mandated to carry out the in investigation, it would be right that Madu stepped aside from his position in the Ministry of Justice.
"The report concludes that Minister Madu did not interfere in the administration of justice, but that the phone call could create a reasonable perception of interference.
"It is clear from the report that his motivation in making the call was not to reverse the ticket but to raise broader concerns, particularly related to racial profiling.
"Nevertheless, as Ms. Kent concludes, 'being angry, wanting assurances that he was not racially profiled are all understandable reactions, given the context of the phone call. It does not absolve the Minister from responsibility, but it is an explanation that deserves recognition.'
"Given her findings, and the unique role of the office of the Minister of Justice and Solicitor General, I have concluded that it would be appropriate for Minister Madu to step aside from that position," the Alberta Premier had said.
Born in the Southeast, Nigeria, Madu was elected to the Legislative Assembly of Alberta on April 16, 2019 as the MLA for Edmonton-South West.
He attended the University of Lagos and graduated with a Bachelor of Laws Honours degree and was called to the Bar in Nigeria.
Madu, alongside his wife, migrated to Canada where he has since been practising law.
In partnership with his wife, Kelechi Madu runs a law firm, Tisel Law Office and has also worked for Legal Aid Alberta and volunteered with the Edmonton Community Legal Centre and the Lawyer Referral Programme of the Law Society of Alberta.