At least 37 killed in Thailand day care attack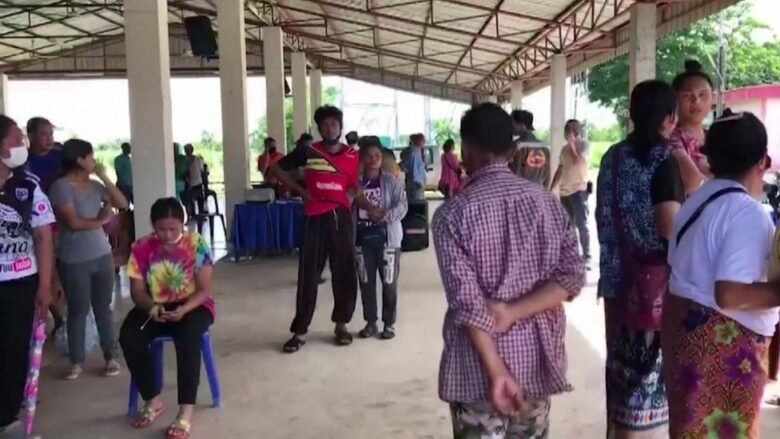 A gunman has killed at least 37 people in an attack at a children's day care centre in Nong Bua Lamphu province, in Thailand.
He subsequently opened fire on and crashed his vehicle into a crowd of bystanders, before returning home and killing his wife and child, police said.
Police have identified the attacker as Panya Khamrab, a 34-year-old former police lieutenant colonel.
He had been dismissed from the force in January for methamphetamine possession, and had appeared in court on a drugs charge hours before carrying out the attack, Thai police say.
He was due to face a verdict on Friday, but killed himself and his family as police searched for him following the attacks.
He had been dismissed from the police force over drug offences, police said.
A teacher who was confronted by the gunman has told Thai TV that the shooter's child was a regular pupil at the day care centre.
She told the Thairath TV network that the shooter – a former police officer – used to drop his child off at the day care and had seemed polite when interacting with staff.
Before the attack, she said she heard a loud firework-like bang and two colleagues on the floor waving to her to take cover.
She said she then saw the gunman walking towards her. She fled inside a classroom with two colleagues and told them to lock the door.
The attacker attempted to shoot through it but the teacher was eventually able to escape the centre and climb over a wall to seek help.
Police have said the gunman's child was not at the day care centre today, but that the gunman later killed his wife and son at home before taking his own life.
Thailand's Prime Minister Prayuth Chan-ocha offered his deepest condolences to the victims's families and said he had ordered an investigation into the attack to be fast-tracked.
World leaders have also been offering their sympathies to the victims of the attack. UK Prime Minister Liz Truss said she was "shocked" to hear of the "horrific events'.
Australian leader Anthony Albanese said it was "impossible to comprehend the heartbreak" and said "all Australians send their love and condolences".