Nigerians laud Osinbajo's visit to US, meeting with Harris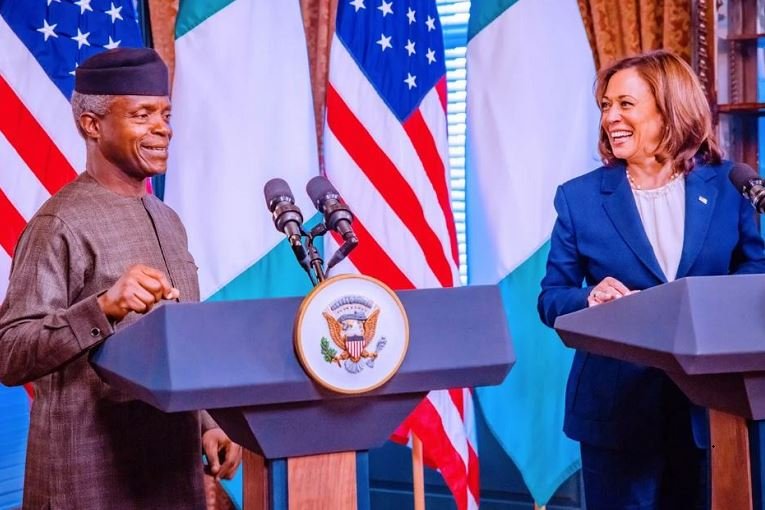 By Bright Okuta
More Nigerians have taken to social media to laud the recent visit of Vice President Yemi Osinbajo to the United States, questioning how he didn't emerge the presidential candidate of the All Progressives Congress.
Reacting to trail the high powered bilateral meeting between Prof. Osinbajo and his US counterpart, Vice President Kamala Harris, popular Nollywood actor, Walter Anga opined that the leadership Osinbajo provides is one the highlight of the Buhari administration.
"This past 7 years of Buhari would have been better if Osinbajo was the person travelling and meeting with other world leaders. But the cabals no gree the man see road."
Responding to his post, some of his followers agreed with his claim. @Amoo_kay wrote: "if this guy was APC candidate, I don't think we'll have a problem now." In a similar vein, @binee2gee2 wrote: "They chose Tinubu over this man and it amazes me. Captain Nigeria!"
Another user @arikray1 wrote: "See representation. What were we thinking in 2015 and 2019. Affliction shall rise no more."
@DJ x-ray shared similar sentiment. "APC had a smart card to play with this man and win 2023 but rather went for Agbado and beans."
For @bmtogb4, Osinbajo tick all the boxes "If not for godfatherism, how is this person not a presidential candidate, instead of the other one, it's really sad. A man as eloquent, intelligent, smart and healthy as this…"
@jaybee2jaybee wrote: "Is this not how a President should look and speak. Very eloquent."
@oyinfabulousity summed up Osinbajo's representation of Nigeria in the US as "Intelligent and very articulate."
The Vice President is leading Nigeria's Energy Transition Implementation Working Group (ETWG) and had gone to the White House to promote the plan and secure global support from the US government, and also the private sector, and other worthy partners.
The World Bank and Sun Africa, a renewable energy organization had pledged $1.5 billion each, totalling $3 billion investment to support the implementation of the Transition Plan.