Jewish sect held in Mexico overpower guards to flee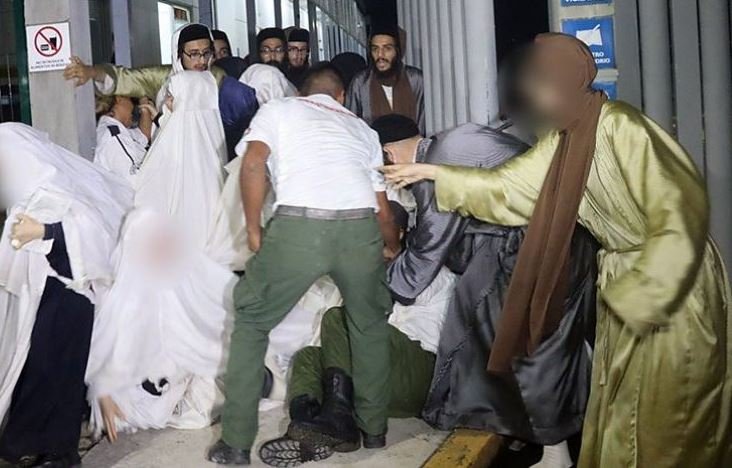 About 20 members of a Jewish sect held at a facility in Mexico after a police raid on their jungle base have fled.
Footage showed men, women, and children streaming out of the site in Huixtla, in the west, on Wednesday night.
They had been there since the raid last Friday when two members were arrested on suspicion of human trafficking and serious sexual offences.
The sect, Lev Tahor, is known for extremist practices and imposing a strict regime on its followers.
It advocates child marriage, inflicts harsh punishments even for minor transgressions and requires women and girls as young as three years old to completely cover up with robes.
Local media said members of the group had been protesting against their detention since their arrival, including rioting and assaulting personnel.
Video from Reuters news agency shows the detainees, dressed in gold, grey and white robes, forcing their way past two guards at a gate as one of their members holds it open.
One of the guards trying to hold them back falls down and the group climb over him as they make their escape. A youth is seen turning and kicking the guard as he lies on the ground.
It is unclear where the group has gone. Associated Press said they were collected by a lorry and headed towards the border with Guatemala, while news site El Heraldo de México said they went by foot for several miles before disappearing into the night.
Their compound, 11 miles (17.5km) north of Tapachula in Chiapas state, was raided by an elite police unit after a months-long investigation and surveillance operation involving Mexican and Guatemalan authorities and a private four-man team from Israel including former Mossad and domestic intelligence agents.
Twenty-six members were found at the site, among them Israelis with dual citizenships including Canada, the US and Guatemala, Israel's foreign ministry said.
It said a Canadian and an Israeli citizen were arrested, while two other wanted members reportedly left the compound two days before the raid and are being sought. Five more were detained for allegedly breaking immigration rules.
The operation stemmed from an appeal to a former member of Israel's domestic intelligence agency, Shin Bet, by a former member of the sect, Yisrael Amir.
Mr Amir fled the group's base in Guatemala in 2020, having to leave his then one-year-old son there.
His son was released in the raid last week and flown back to Israel with his father.
The group had lived in Guatemala since 2014, but in January members illegally crossed into Mexico, settling in the jungle.
The leadership in Guatemala has been at the centre of a kidnapping case since 2018. Nine of the sect's members have been charged, four of whom have so far been convicted.
Lev Tahor – Hebrew for Pure of Heart – was formed in Israel in 1988 and is thought to number up to 350 members, according to an ex-members group.
It has been forced to move from country to country in recent years after coming under scrutiny from local authorities. It is currently spread between Israel, the US, North Macedonia, Morocco, Mexico and Guatemala. Between 70 and 80 members are still in Guatemala.
While the group is often described as ultra-Orthodox, it follows its own sets of rules and has been declared a "dangerous cult" by an Israeli court.
Its leaders have denied breaking local laws and say the group is being targeted because of its beliefs.