Canadians clash over Justin Trudeau, #TrudeauMustGo v #IStandWithTrudeau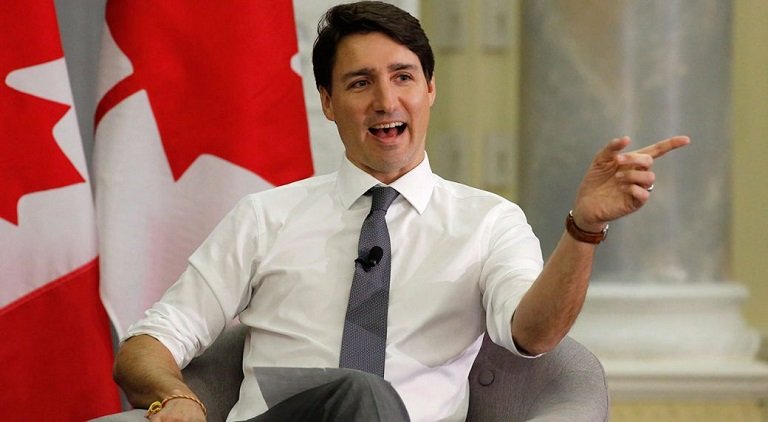 Some Canadians have taken to Twitter to express their outrage at some of the policies of Prime Minister Justin Trudeau calling for his ouster but there are others who think he is the man for job.
With thousands of tweets, some Canadians want Justin Trudeau out for not allowing them the freedom that they seek especially with COVID but there are others who believe that the policies are in place to protect all Canadians.
Many of the #TrudeauMustGo canvassers are unvaccinated but want to travel around and out of the country. They also do not approve of ArriveCan, an app that an individual must use to submit mandatory health information to the Government of Canada.
Calling for Justin Trudeau to go, a 44-year old mum, Paola Di Maddalena wrote, "I'm a 44 year old mother of 2. My career as a flight attendant for 15 years with a perfect service record hung in the balance for nearly a year for reasons you can guess. According to Trudeau I am an extremist that needs to be dealt with. #TrudeauMustGo."
Mel Brenner, also 44 years old shares similar sentiments. "I'm a 44 year old wife and mother. College educated and have contributed to this country for nearly 30 years. According to @JustinTrudeau I hold unacceptable views and should not be tolerated because I question the "science" and believe in freedom of choice. #TrudeauMustGo"
JJ Scott a mother of three touched on racism in her thoughts. "I'm 50. A divorced mother of 3, born & raised in Canada. I've worked since I was 14 years old. My kids are my life and I've spent the last two years educating and protecting them. But according to Trudeau, I'm a racist, extremist…who should not be tolerated. #TrudeauMustGo"
Annabel La Pointe says she is unvaccinated and have bot been able to see her family in the US. "I am a single mom to a wonderful 2 year old, I love music, art and life. I haven't seen my family (they live in Oregon) in nearly three years. I am not vaccinated, by personal choice. I am an extremist and racist according to @JustinTrudeau. #TrudeauMustGo"
There are those who do not agree with the #TrudeauMustGo campaigners. They believe the policies of the Prime Minister are justified.
"Janet Lore who stands with Justin Trudeau says Canada is the freest country in the world. "I'm 65..never collected a dime of the many benefits like EI or CERB. I'm lucky I never needed them but millions did. I am so privileged to live in the freest country in world. Thank God for that.. #IStandWithTrudeau"
Under the Radar explained why Trudeau should be cherished. Thank you
@JustinTrudeau for peace, order and good governance. For helping keep us safe, a roof over our heads in the most uncertain era of our generation. You had all Canadians' backs, our health, economy & democracy. We will have yours. #IStandWithTrudeau"
Another Lisa, a mom and grandma says appreciates Justin Trudeau for COVID intervention. "I'm a mom/stepmom to seven and grandma to six; owner of a small business in Ottawa. Although I didn't need CERB, I appreciate the Federal Liberal government giving financial support to so many people who needed it during the pandemic. #IStandWithTrudeau"
I'm a proud father, proud Grandfather, proud Canadian and #IStandWithTrudeau pic.twitter.com/ryftzGeYbb

— Clay Thompson (@harryt59_harry) September 17, 2022